Get ready for some incredible winter fishing here along the Nature Coast! Here's what to expect:
While the weather might be frightful throughout the country, the local waters throughout the Nature Coast of Florida still have plenty of great winter fishing opportunities to offer cold tolerant anglers. Thanks to diverse habitats and seven spring fed rivers that stream 72° water into the Gulf, anglers can find consistent light tackle fishing action for a variety of both fresh and saltwater species no matter the wind or weather conditions.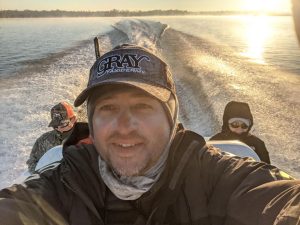 Ready to make the trip to Crystal River or Homosassa to catch some fish? Here's what you can expect from our winter fishery here in Florida.
WHAT'S Biting during the winter IN FLORIDA
Largemouth Bass
Tarpon
Redfish
Permit
Snook
Speckled Trout
Pompano
Sheepshead
Mangrove snapper
Black drum
Ladyfish
Jack Crevalle
When the conditions are right, anglers can expect to target numerous inshore species during a day of fishing. Because most species seek out similar structures or gravitate towards warmer water areas this time of year it's not uncommon to catch multiple species while fishing the same dock, oyster bar, or mangrove laden shoreline. Large docks and riprap seawalls are perfect structures for targeting river species such as Snook, Redfish, Tarpon and even Bass. Using live and artificial baits that mimic small baitfish is key when targeting multiple species scenarios this winter. Live pinfish and mullet are great choices for those choosing to use live baits, while topwater lures and twitch baits such as Rapala Skitterwalks and Mirrolure Mirrodines can be equally as productive.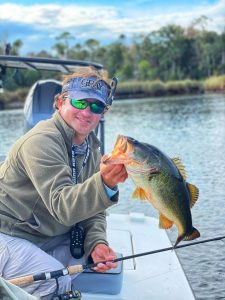 TIPS FOR WINTER FISHING IN FLORIDA
For winter fishing, anglers need to get accustomed to hitting the snooze button before a day out on the water, as it's better to start fishing later in the day. Fish often become more active when the sun has had time to warm the water and for those anglers venturing into the Gulf, timing your day around the outgoing tide will ensure that you're fishing the warmest water temperatures of the day as 72° water will be pouring out into the Gulf.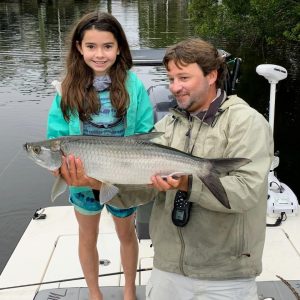 If targeting areas of extreme shallow water (6" or less) is out of the question, the next best area of warmer water can often be found in river channels or deep holes. Deep water is less likely to experience the temperature swings that make fish less motivated to feed. Both deep holes and channels are likely to contain fish seeking a more regulated water temperature and presenting baits such as shrimp on a jighead close to the bottom and retrieving them slowly will often provide a hungry fish with enough time to decide to feed.
Because of these slower than normal patterns, anglers will need to have plenty of patience. Fish may watch a bait for a while before deciding to exert the energy to feed. Chumming tactics can often be used to try and jump start a feeding pattern so stocking up on additional shrimp or pinfish could pay dividends when targeting cold sensitive fish.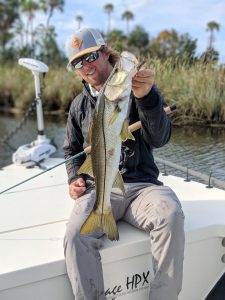 The Nature Coast of Florida is lucky to have plenty of great fishing into the winter. You can expect to stay comfortable and have an active day if you follow these tips for winter fishing in Florida.
HAVE A MERRY CHRISTMAS AND HAPPY NEW YEAR!!
Capt. Kyle Messier
(352) 634-4002