Pan-Roasted Sheepshead Fish
1/4 cup extra virgin olive oil
3–4 six-ounce filets sheepshead
Salt
Pepper
In a large sauté pan, add oil and heat over high heat until it just begins to smoke. Season both sides of the fish filets with salt and pepper and carefully add the fish to the pan, flesh-side down.
Cook for 4–5 minutes or until you see the edge of the fish begin to turn lightly brown, and turn the fish and cook on the other side for 5–6 minutes, or until it also begins to brown.
Remove from pan to paper towel-lined plate and allow to rest a minute before serving.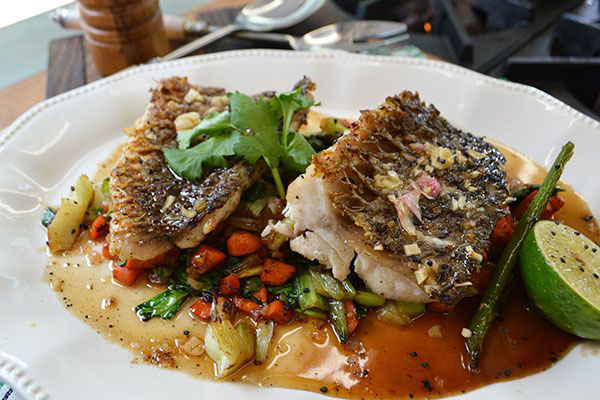 3 cups Soy sauce
1 tablespoon lemon or lime juice
2 teaspoon minced garlic
2 teapoon minced ginger
1 teaspoon crushed red pepper
1 cup chopped Lemon grass, or substitute green onions or cilantro
Marinate whole fish (or fillets) for 15-20 minutes
Keep remaining marinade, heat it up to boiling right before fish is done cooking.
If using whole fish, stuff body cavity with lemon grass and sew shut.
Steam or grill fish till done, remove to serving dish and pour hot marinade over it, Garnish with greens.
Sweet Chili Rémoulade (recipe follows)
6 (6-inch) loaves French bread, halved lengthwise and toasted
1 head Bibb lettuce, cored and shredded (about 6 ounces)
3 large beefsteak tomatoes, cored and cut crosswise into ¼-inch-thick slices (about 2 pounds)
1 medium shallot, cut lengthwise into ⅛-inch-thick slices
Fill a large Dutch oven halfway full with oil, and heat over medium-high heat until a deep-fry thermometer registers 375°.
In a large bowl, sprinkle fish with salt; set aside.
In another large bowl, whisk together flour, cornmeal, and Cajun seasoning. In a medium bowl, whisk together eggs and 1 tablespoon water.
Working in batches, dip fish in egg mixture, letting excess drip off. Dredge in flour mixture, shaking off excess. Fry fish until golden brown, 4 to 5 minutes. Remove using a spider strainer, and let drain on paper towels.
Spread about 3 tablespoons Sweet Chili Rémoulade on cut sides of each loaf. Top bottom halves with lettuce, tomatoes, shallot, and fried redfish; drizzle each with an additional 1 tablespoon Sweet Chili Rémoulade. Cover with top halves. Serve immediately.
Poor Man's Lobster Recipe
2lbs Sheepshead fillets
1/2 lemon
1 cup sugar
Lemon pepper dill seed, melted butter (for serving)
Fill a large pot about 1/2 to 3/4 full of water and bring to a boil.
Add in half a lemon, cut into 2 pieces and the sugar. Stir until the sugar dissolves.
Allow the mixture to come back to a boil for a couple minutes.
Cut the fish into about 1-inch chunks and add to the boiling water. Do not stir!
When the fish begin bobbing and float to the top, strain them out and set on a paper towel or wire rack.
Sprinkle with lemon, lemon pepper and/or dill seed (optional). Dip in butter- serve warm.