4 Speckled trout filets
Olive oil
Old Bay seasoning
Aluminum foil
Melted butter 
Lemon wedges 
Rub each filet with olive oil, and arrange skin side down in a single layer on a sheet of heavy duty aluminum foil.
Sprinkle the fish with Old Bay seasoning.
When your grill is hot and ready, place the fish on the grill (with the foil in between).
Cook for 3-4 minutes, and baste with butter (option). Cook another 2-3 minutes.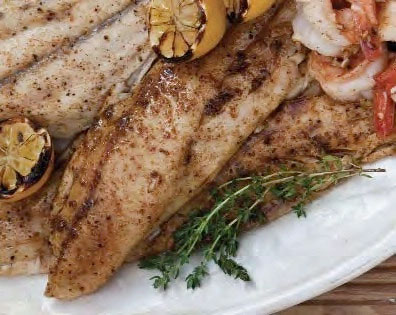 Be careful not to overcook – the fish will cook very quickly on the grill. You'll know it's done when it flakes easily with a fork.
Squeeze a little lemon juice on top, and serve. Enjoy!
Season the trout fillets lightly with sea salt and pepper on both sides and pat dry with paper towels. Dust lightly in flour to coat, shaking off any excess.
Add ½ tablespoon butter and olive oil to a large nonstick pan and gently heat together just until the butter begins to froth and bubble. Lay the trout fillets in the pan carefully and cook over medium heat until they are cooked through, roughly 2 minutes per side; remove to warm dinner plates.
Add remaining butter to the pan and cook on high until the butter starts to brown, and then add in the almonds and toss to coat. Cook until the almonds are slightly brown, being careful not to let them burn. Add the lemon juice and parsley, and quickly pour the butter over the trout.
Avocado Lime Speckled Trout Tacos
4 Seatrout fillets
2 cups of Mojo Marinade
3 tomatoes
2 jalapenos
½ red onion
½ yellow onion
½ bunch of fresh cilantro
2 limes
1 sliced avocado
2 tsp black pepper
2 tsp salt
2 T champagne vinegar
8 corn tortilla shells
Marinate trout fillets overnight in zip lock bag in fridge with mixture of 2 cups of mojo marinade and a few leaves of cilantro.
Preheat oven to 375 degrees. Place tomatoes, jalapenos, red onion and yellow onion on grill. Allow to cook until outsides are lightly charred, then place in zip lock bag and leave sealed until cooled to room temperature. Once vegetables are room temperature, peel off skin, cut into 1 inch pieces and place in food processor. Add cilantro, juice of 2 limes, 2 tsp salt, 2 tsp black pepper and 2 tablespoons champagne vinegar. Pulse in food processor until mixture reaches a chunky salsa-like consistency. Set mixture aside in a medium size bowl.
Remove trout fillets from zip lock bag (after allowing to marinade overnight) and place on baking sheet. Allow the fillets to bake for 10 to 12 minutes or until fish flakes with a fork. Once fish is done, remove from oven and set aside. Place corn tortillas on baking pan and bake for 3 to 6 minutes or until warm and slightly browned. Remove from oven.
Start building your tacos. Add fish first, then top with salsa mixture, sliced avocado and lime.
Sweet Chili Rémoulade (recipe follows)
6 (6-inch) loaves French bread, halved lengthwise and toasted
1 head Bibb lettuce, cored and shredded (about 6 ounces)
3 large beefsteak tomatoes, cored and cut crosswise into ¼-inch-thick slices (about 2 pounds)
1 medium shallot, cut lengthwise into ⅛-inch-thick slices
Fill a large Dutch oven halfway full with oil, and heat over medium-high heat until a deep-fry thermometer registers 375°.
In a large bowl, sprinkle fish with salt; set aside.
In another large bowl, whisk together flour, cornmeal, and Cajun seasoning. In a medium bowl, whisk together eggs and 1 tablespoon water.
Working in batches, dip fish in egg mixture, letting excess drip off. Dredge in flour mixture, shaking off excess. Fry fish until golden brown, 4 to 5 minutes. Remove using a spider strainer, and let drain on paper towels.
Spread about 3 tablespoons Sweet Chili Rémoulade on cut sides of each loaf. Top bottom halves with lettuce, tomatoes, shallot, and fried redfish; drizzle each with an additional 1 tablespoon Sweet Chili Rémoulade. Cover with top halves. Serve immediately.
Pan-Fried Speckled Trout with Brown Butter
4 (8-10 oz.) fresh speckled trout fillets
Sea salt, black/red pepper, garlic powder
1 c. buttermilk or whole milk
1 c. flour
Olive oil
6 T. butter, softened
3 T. fresh lemon juice
Zest of one lemon
Minced parsley, garnish
Paprika
Dry fish well and season with salt, peppers and garlic powder.
Place milk in shallow bowl and flour in another bowl (you can add a little seasoning to the flour if you desire.)
Dredge fish in milk and then in flour.
Place olive oil in bottom of large, heavy-bottom skillet over medium heat (just enough to cover the bottom of pan.)
When oil is hot, add fish.
Cook on both sides until golden brown and cooked through, about 4-6 minutes per side.
Remove from fish from skillet and place on plate and keep warm.
Add butter to the same skillet and cook over medium heat, stirring constantly, until nut-brown.
Remove from heat and carefully stir in lemon juice and zest.
Place fish on serving plates and top with browned butter and parsley.