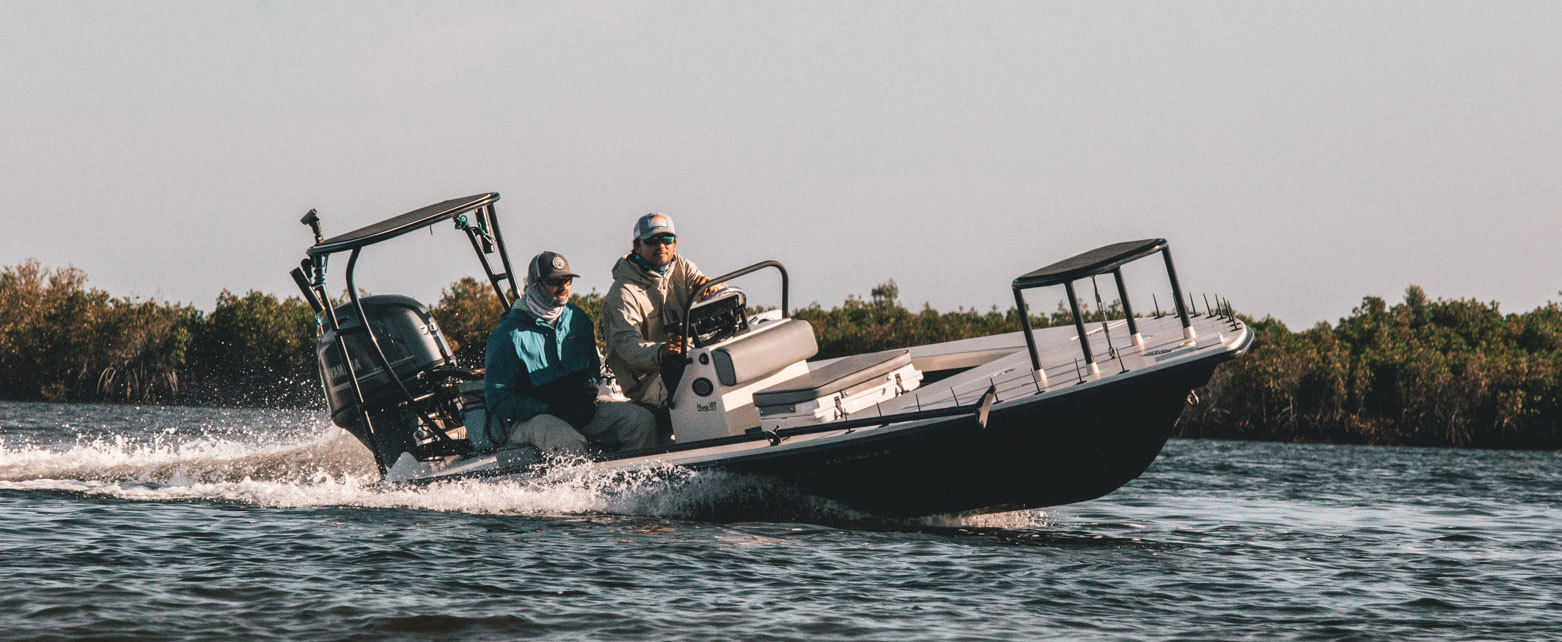 The Crystal River and Homosassa waterways are well known for their extremely clear and shallow waters.  In order to conquer these shallow waters I have added one of the shallowest drafting poling skiff on the market to my personal fleet.  My Maverick HPX-S weighs in at a minimal 425 lbs and drafts only 6 inches of water.  The extreme light weight of the hull can be attributed to the Carbon Kevlar material which it's built from.  This material is lighter, stronger, and more durable than the fiberglass used in most skiffs.
At 17ft this boat is smaller and more maneuverable than most of the other flats boats on the water today.  Although the size may be smaller Maverick is well known for developing boats with extreme shallow water capabilities that can take a chop.  The hull is designed with spray rails in the hull to deflect any water that may want to come into the cockpit area.  Another added benefit to this boat is that it is also self bailing and that definitely helps when an afternoon rain storm may fall upon our trip.
The first thing you'll notice when you step aboard my Maverick is that this boat means business.  A 425 lb hull paired with a 70 hp Yamaha 4-Stroke is a match made in heaven.  The light weight of both the hull and the engine and the added pocket tunnel allows this boat to basically run in wet mud.  One might ask "Why do you need to get in that shallow of water?"  When chasing tailing Redfish in ankle deep water you don't want to be sitting on the sidelines waiting for the tide to come in.  This boat doesn't need a tide, she goes where ever she wants, when ever she wants!!!
An added advantage of this boat is that it is completely equipped with a custom poling platform and casting platform.  I use the poling platform to push pole the boat around many of the creeks, cuts, and coves scattered throughout our area.  This is the stealthiest way to sneak up on fish and it also gives me a height advantage for spotting fish from a distance.  The casting platform is basically the anglers "office."  From this vantage point you're almost a foot above the deck making sight fishing easier and the method of choice on this boat.