You just have to love April along the Nature Coast. Blue skies, cool mornings, mild temperatures, and some of the best fishing the Nature Coast will see all year occurs during the month of April. Historically, April is the catalyst month for the start of the Nature Coast fishing season. Now don't get me wrong the Nature Coast has great year round fishing but most of the fishing patterns created for the major months (April-November) begins in April. I typically use April as a gauge for most fish species both resident and migratory and with this month already bringing in some welcomed news, it looks as if fishing season of 2012 will be a banner year for sure.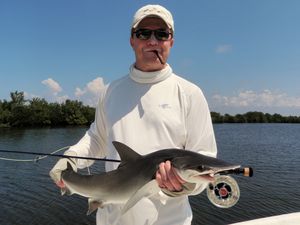 The staple species of the area is and hopefully always will be the Redfish. In recent weeks their patterns have shifted from sporadic huge 50-70 fish schools, to smaller schools ranging from 3-10 fish. First thoughts would be that this is a bad occurrence, but when you think about how skittish a school this size can be, it's a welcomed sign to see all of those fish scattering out and covering almost every point, shoreline and rock bar within the same general area. When sight fishing for Redfish nothing gets your heart pumping more than to see 50 large Redfish push into your proximity. But when faced with presenting a bait, lure or fly to these fish everything has to be right. You blow up one fish, you blow them all. Smaller schools offer more opportunities. You can make a bad cast to one fish and more or less he has scared himself and none of the others on the same piece of real estate, thus giving you more opportunities to present your bait to other fish.
The Black Drum is another species that looks to make their presence felt during this early year. With our major push of large Black Drum (30-60lbers) all but over, smaller schooling sized fish ranging from 3-15lbs have taken up residency along many of the oysterbars and river drop offs scattered along the Crystal River, Homosassa, and Yankeetown areas. Now the Black Drum doesn't get nearly the good publicity that their relatives the Red Drum receive but how can you beat a fish that pulls hard and will eat any shrimp, crab or Gulp! thrown in front of it. An extremely fun way to target these fish is to chum them to the surface. It's amazing what these fish will do once a few hand full's of shrimp, crab, or barnacles hit the water.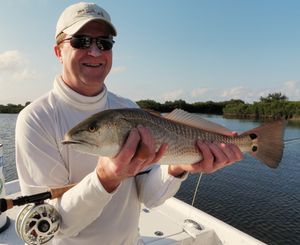 One of the major highlights of Nature Coast fishing which starts this month is the AWESOME! Shark fishing that our area has year in and year out. April is the time of year when all the bait fish, bring in all of the Spanish Mackerel, Bluefish, Blue Runners, and Ladyfish which encompass a Sharks diet on to the local flats. The clear shallow waters of the Nature Coast make great areas for Sharks to stalk their prey. Lemons, Bulls, Hammerheads, Bonnetheads, and Tiger Sharks make up the major story lines of the year but it's the Spinner Sharks that I enjoy catching the most. All sharks put up a great battle on light tackle, but when the drag starts peeling off your reel and you lay into a Spinner Shark the first thing you will see is this (50-120lb) Shark shoot straight out of the water and begin a dance that would make a Tarpon proud. They're called Spinner Sharks for a reason and if you are lucky enough to keep one on the hook for the entire fight you'll be spoiled with a dance that not even Ricky Martin could master.
So if you're making your vacation plans a little early this year, think of the Nature Coast for some Awesome inshore fishing action. The beautiful scenery, laid back atmosphere, and great fishing of the Nature Coast will surely keep you coming back for more.