Looking back on every fishing report I have ever wrote for both Red Hot Fishing Charters and Florida Fishing Adventures I have always found myself remaining extremely positive in regards to Florida weather. Unfortunately, that streak of positive talk will be out the window for this September 2014 fishing report. Since the start of September both the meteorologists and myself can not quite figure out the recent weather patterns for this month. I have a half dozen apps on my phone that I check everyday and I know the weather man has more sophisticated equipment than an app, yet the two of us still can not figure out what is going on weather wise from day to day.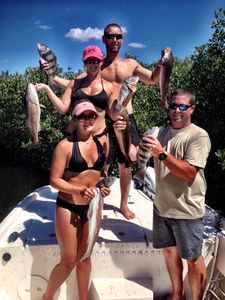 How is it possible that on a day that has an 80% chance of rain it yields a beautiful "Chamber of Commerce" sunny day and a day that has a 30% chance of rain forecast turns out to be an all day rain event? Sure some of you will say that these weather forecasts are for the Tampa Bay area and since we are 80 miles north there is a slight deviation in the prediction. I understand that point but normally there is a plus or minus 10% rule that all of us fishing guides use to make our assumptions about the impending weather. Lately we have all been more than 10% wrong.
Here's another good one for you: How is it possible that on one day you will have rain all morning long and sun in the afternoon and the very next day with the same weather pattern hanging around it will be sunny in the morning and then rain all afternoon long? I get it, certain weather patterns change from day to day but at this point in time I think Mother Nature is starting to play tricks on us. Myself and all of the anglers that have visited the Nature Coast over the last few years have been extremely blessed with great weather year after year. The last 3 winters for instance have been extremely mild and dare I mention that the coast of Florida has not seen a Hurricane in almost a decade (KNOCK ON WOOD)! I guess I will just have to continue to scratch my head with these weather patterns and keep thanking GOD that he made fish wet for a reason!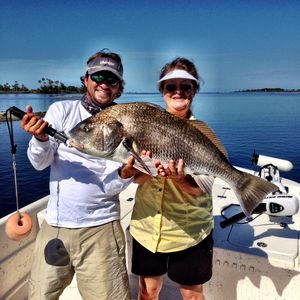 Although I have dwelled on unpredictable weather please keep in mind that the Awesome Fishing Action along the Nature Coast has been anything but. Finally our major schools of Redfish are arriving which have already provided many anglers with some pretty spectacular catches. Many of these schools of Redfish will exceed 50 fish schools and I have even seen larger schools in the past containing over 100 fish. A few weeks ago I had an opportunity to fish with Rey Fortney who was visiting from Massachusetts. During the New Moon tidal phase Rey and I were able to land over 40 Redfish within a school and most of these fish were well within the slot. This is truly a Blast to say the least.
As Awesome as the Redfishing has been in recent weeks, Nature Coast Anglers will still find plenty of other exotic species to choose from during a day of fishing. Spanish Mackerel, Bluefish, Jacks, Snapper, Black Drum will all be great bets for the rest of September but for anglers looking for something a pretty tasty for the pan think about Flounder fishing this month. Flounder (Summer Flounder) are always a top target in September. With the warmer weather of September bringing in tons of bait fish into the shallows many Flounder will be lying and waiting for an unsuspected minnow to cross its path. Areas with current are great areas to start searching for Flounder and I for one love fishing cuts along oyster bars and sand flats adjacent to rocky structure. The key when fishing for Flounder is to remember that they are ambush predators. Baits and techniques that cover a lot of ground will be most effective. Drifting and dragging shrimp will get the most amounts of action but for anglers looking for a true "Door Mat" think about tossing a small pinfish or mud minnow into a fishy area.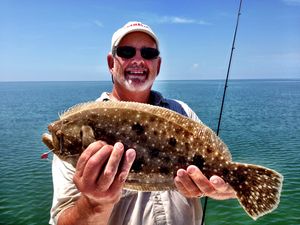 ALTHOUGH THE NATURE COAST WEATHER HAS BEEN A LITTLE UNPREDICATBALE AS OF LATE THE RECENT CATCHES ALONG THE FLATS OF CRYSTAL RIVER, HOMOSASSA, AND OZELLO MAKE CHALLENGING THE WEATHER A LITTLE MORE UNDERSTANDABLE. AS THE OLD SAYING GOES, "IF YOU DON'T LIKE THE WEATHER IN FLORIDA, WAIT A DAY IT WILL CHANGE COMPLETELY!"