Welcome to the Nature Coast home of phenomenal fishing and wonderful January weather. That's right! January is spoiling us during this early start of the New Year with weather that normally is synonymous with late March and early April. How can you beat high 70's, NO Humidity, and World Class Fishing? I tell you how you can beat it, you get out on the water and enjoy as much of this Postcard weather as possible.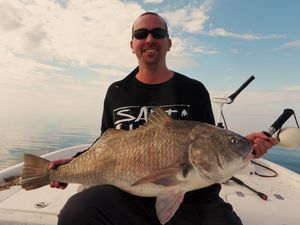 Obviously, when Mother Nature spoils you with World Class weather like we are experiencing at the moment certain fishing patterns take hold that are neither expected nor anticipated. The arrival of the Giant Black Drum is an instance that I have been preparing for all year, but with every coming day it looks like these fish may be arriving early in anticipation for a winter vacation along the Nature Coast. The earliest I have witness their high profile arrival was 2 years ago in early February. That being said we have already landed our first Giant Black Drum which bottomed out my 30lb Boca Grip on January 7th. To say this was expected would be a lie, but a welcome sign of things that are expected to be on the way.
February is normally the time frame when we target these hard charging GIANTS, but with our recent weather patterns indicating a very warm winter all things look to be a GO for targeting these Black Drum during the end of January. Over the next few weeks my boats will be loaded to the brim with all sorts of baits and flies ready to tempt these hard fighting fish including oysters, shrimp, crabs, and even a number of different patterns I have been working on for months. By far these are the most special fish to come into the shallows during our winter time frame and they make great practice for anglers looking for a warm up before our Tarpon push in May and June.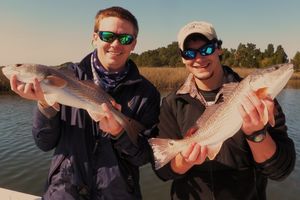 As great as the anticipated Black Drum action is going to be, it's the Redfish that seems to be making all of the early headlines this year. Normally, during the month of January these fish can be a little sporadic and picky to put it nicely. That being said, the warmer weather has impacted Redfish schools more than any other targeted species over the recent weeks. Schooling fish normally are not common during this time of year but during recent trips I have witnessed over a dozen different schools of fish from 10-30 fish schools. Again this is an unusual instance for this time of year, but it's definitely a great sign of things to come during the remaining "winter" fishing months.
Along the Nature Coast the months of January and February are normally considered the perfect time for maintenance and improvements for the approaching fishing season. Well for all of you anglers that are ready for the prime time, now is the time to get in on some early exciting fishing action along the Nature Coast.
Huge Schools of Redfish, 40lb+ Black Drum, and Weather that will make all of your Northern Relatives sick is what the Nature Coast has to offer this month. So hurry up and get your gear and boats serviced NOW is the time to hit the water before everyone else figures out the same thing.