Tis the season to wish all of my fishing friends a Merry Christmas. It was not to long ago most of us were wondering if we were going to be able to fish together again. Times have changed and I am extremely thankful for all of the great people who made the trip to Crystal River and Homosassa to fish with myself and all of the other team members of Reel Florida Fishing Charters this year. It's because of all of you that our 2021 was a Memorable One!!!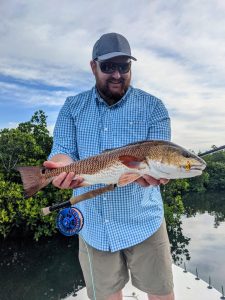 NOW LET'S GET TO THE FISHING:
What an incredible last few months of fishing we have had here along the Nature Coast. Extremely unseasonably warm weather has been the major headline as of late and it's because of this warmer weather that our shallow water Grouper fishing has continued to be off the charts in water depths ranging from 5-7ft. Casting lipped plugs has been a huge success this season and when the conditions are right we have actually been able to witness a numerous amount of our strikes. That's Right Folks!!! Sight fishing Grouper is a thing here!!!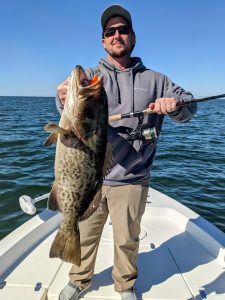 As the New Year approaches and our shallow water Grouper season comes to a close anglers will still have plenty of options to choose from in the shallows as Redfish, Speckled Trout, Sheepshead, and Snook will all be top targets going forward. As temperatures continue to cool Redfish especially will light up around mangrove edges and oyster flats. Sight fishing these bronze bruisers is ideal this time of year especially when the tides are extremely low with sunny conditions. Targeting tailing fish is some of the most fun fishing our area has to offer throughout the year and the months from December-March are Prime Time for giving it a shot.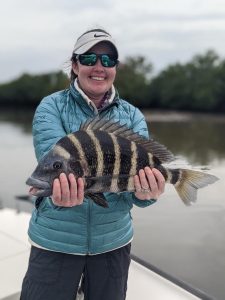 If you have never targeted tailing Redfish in ankle deep water before you don't know what your missing. A tailing fish is a feeding fish and the soft presentation of a live shrimp or shrimp pattern fly is all that's needed for an immediate strike. The beauty of poling these same shallow flats is that often we come into contact with other species as well like the Snook and Sheepshead, both of which will readily take the same live shrimp or fly.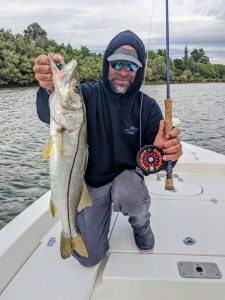 As aggressive as Snook are throughout the year often during the winter months these fish will lazily cruise the shallows in search of easy meals. Often Snook will only eat sporadically throughout a day as they do not want to exert too much energy in colder conditions. To combat this unique feeding phase throwing larger baits, flies and lures is advised as one big meal requires exerting less energy than eating numerous little meals. Large Shrimp, Pinfish, Twitchbaits, and EP Baitfish flies are sure to excite any hungry Snook patrolling the Nature Coast this time of year.
With so much to be thankful for in 2021 lets not forget the people whom impacted our lives this year. We only have one life to live, why not work towards enjoying every day we have together. Until we meet again in 2022 folks. CHEERS!!!
Capt. Kyle Messier
(352) 634-4002