As we wrap up December I can't help but think that the Nature Coast must have made Santa's nice list this month as he gift wrapped anglers some beautiful weather to go along with some incredible end of the year fishing. A prolong stretch of warmer weather that has lasted into the end of the year has many anglers scrambling to hitch up their boats one last time in order to come tight on some of the Nature Coasts most sought after species.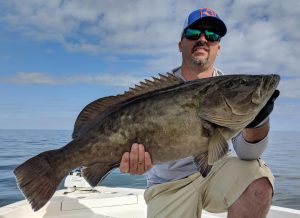 December 31st is the official end of the Gulf Coasts Gag Grouper season but if the Grouper had a say in the matter they would probably still be chewing into the Summer months. Large congregations of 24-30" slot sized Gag Grouper have taken up their winter residents along many of the areas ledges and rocky outcroppings that are scattered throughout Crystal River and Homosassa. Targeting fish in 15-20ft of water has been a huge success lately but for those anglers that are looking for a real rush, casting lipped plugs or throwing sinking lines with weighted flies in 6-8 feet of water has been out of control.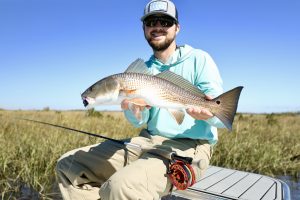 As AWESOME as the Gag Grouper fishing has been offshore the real treat as of late has been the incredible Redfish Action found in the backcountry of Crystal Rivers Salt River. Historically the winter months from December-February feature the best Redfishing of the year but there has been something truly special about this winter as larger numbers of BIG fish have sought out flats that are traditionally used by Speckled Trout during the winter. These flats are exquisitely clear this time year and with most fish jockeying for position in a number of white sandy potholes even the most novice of anglers has the opportunity to spot fish.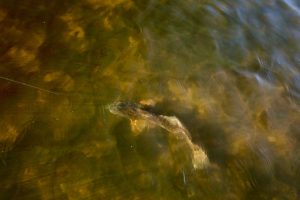 When targeting large fish in such clear and shallow water a gentle presentation is of the utmost importance as even the slightest shadow or movement can send these fish packing. Redfish are extremely keen on eating shrimp and small crabs this time of year so live baits and fly's should mimic their intended prey. Weightless Bendbacks, craft fur shrimp and even small Kwan flies tied with bead chain can all be a recipe for success.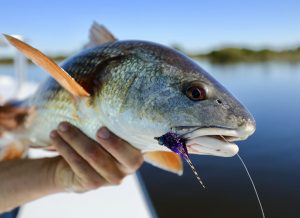 Key Tip: If anglers are finding that they are consistently spooking fish upon approach try to duck down and throw a spinning rod or fly rod with more of a side arm motion. More often than not a weary Redfish will spook because your shadow than because of the splash of your bait or fly.