The word WOW! Can be used in many different ways during a day out on the water here along the Nature Coast. The beautiful weather, gorgeous scenery, and incredible fishing help our anglers say that same phrase each and every day. Over the last three weeks however I have found myself using that same phrase for either the beautiful or unexpected events that I have seen out on the Crystal River lately. As a fishermen that has been guiding professionally for over 12 years now there are not to many spectacles that I haven't seen here locally. Or so I thought.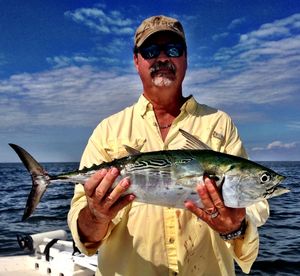 It all started on a cool sunny morning a few weeks back. The air was crisp with that fall feeling and the fish were starting to feel it to. A great morning of Redfishing in the Mangrove Backcountry was all we needed to jump start a great workweek. As our day of chasing Redfish soon turned into running and gunning for speedy Jack Crevalle Feeding Frenzies I noticed a huge Bald Eagle sitting on a Channel Marker on the north side of the Crystal River. For the last 3 years I have tried my best to capture a great photo of a Bald Eagle. So many chances were dashed by bad weather, horrible angles, or even other boaters, but on this day this eagle was more than willing to strike a pose for a camera and like every trophy fish that I have ever landed this moment was captured in a photo. It really is hard to beat the scenery around the Nature Coast this time of year. You just hope your able to capture a photo or two that can do justice for the sights and sounds.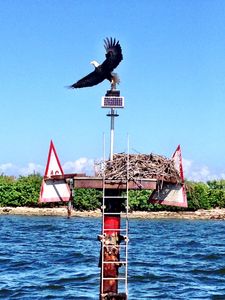 Its hard for most people to understand how a picture taken can be viewed as such an accomplishment but when you have tried and failed so many other times it feels great to finally get the ONE! And the beauty of the ONE! is that it can come in so many different shapes and sizes. A few days after my great experience with the Bald Eagle came ONE! of those fishing days that will be etched in my mind forever.
I have had the opportunity to fish with Jay and Nancy Allen of Leesburg for over 10 years now. We have shared many incredible days together but our last trip was probably one of our most memorable!! My days with Jay and Nancy always start late but with a smile. Nancy hates waking up early but I know she wakes up early on our days so that she can laugh at my bad jokes, poke fun at her husband of forever Jay, and catch anything unexpected while we are out fishing. The first great memory from our day came when Nancy landed a really nice Gag Grouper that almost pulled her in the water while she was reeling in a little Black Seabass. The word WOW! followed by a grunt and a groan soon let us all know that she was seriously hooked up with a good fish. After a back and forth tug of war on light tackle she soon had boated a really nice 25" Grouper.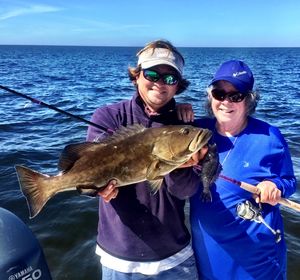 As great as landing this Grouper was for her, I am pretty sure that she felt just as satisfied by letting Jay know that he didn't have to travel 50 miles offshore to land a fish like this. After a few minutes of smiles and pictures the scene turned into quite a panic as our boat became bombarded by a school of over 50 Redfish all measuring in over 40". Although I have heard about schools of fish like these before I have only seen one Redfish ever landed on my boats over 40".   But now we had a major school of large Redfish looking for anything to eat. After 2 quick casts from Jay and I we were locked in with a double header and the rest is history. 4 Monster Redfish all over 40" made this one of the most special days I have ever had on the water and it was a pleasure to spend it with my second family the Allen's.
WOW! comes in so many ways. A beautiful pose of a bald eagle, a monster school of gigantic Redfish, an acres worth of feeding frenzied Bonita!! The days, weeks, and years that are approaching are going to be special here along the Nature Coast and I for one will be looking forward to yelling WOW! a few more times over the years.