Welcome to sunny and warm Florida! Who am I kidding? As I write this report on this balmy 50° winter day I can't help but think of all the folks that spend their entire winters wishing for a 50° day. Here along the Nature Coast we are very fortunate in the fact that we actually have seasonal weather changes throughout the year. Although our seasons change very quickly its our rapid warm ups that help most visitors forget about our change of seasons. Just like most Floridians I am going to complain about this cold winter day, but soon enough (2 days) the warmer 70° weather days that most Floridians and visitor alike are accustom to will be back and life will be once again be Fantastic here in sunny and warm Florida.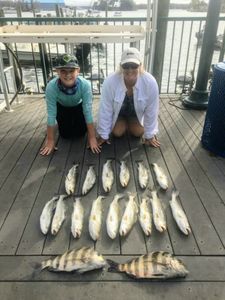 The rapid changes in our weather patterns this month will be the catalyst that triggers some of the best inshore light tackle fishing found anywhere in Florida. Anglers will find that temperature sensitive fish such as Speckled Trout, Snook, and Pompano will continue to feed heavily before any major weather changes occur. Targeting deep potholes along shallow grass flats will be the perfect spots for many of these fish to congregate. Speckled Trout and Snook especially seek out these deeper potholes mainly because deeper water usually holds a more consistent water temperature when negative tides related to passing cold fronts linger. Both baitfish as well as predator fish will seek out these deeper impressions in order to stay warm and hide from apex predators such as Osprey, Bald Eagles and in some shallow enough cases Raccoons. Hungry fish that become trapped in these holes are often suckers for a well placed free lined live shrimp. Often I will have my anglers cast past the hole and slowly retrieve their baits back into the hole so that weary fish are not spooked from the splash. Once your bait finds the strike zone be patient and hold on!!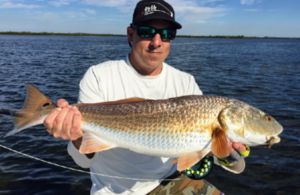 For those anglers that have been craving some extreme shallow water action now is the time to hit the skinniest of waters in hopes of finding those huge Schools of Tailing Redfish that our local waters are known for this time of year. Shallow poling skiffs are the key to getting way back into our remote backcountry waters. My chosen vessel for this situation is a Carbon Kevlar Maverick HPX poling skiff. With a 4" draft this is the optimal vessel for poling to tailing Nature Coast Redfish. When targeting Redfish in such extreme shallow waters there are only a handful of baits that could be deemed as successful baits. Live shrimp will continue to be prime baits for those anglers that interested in landing a ton of fish on light spinning tackle but for those anglers that are interested in upping the challenge level throwing a fly will surely yield great results.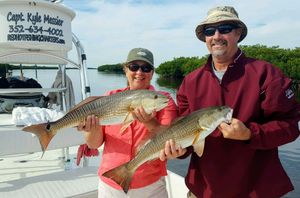 The months of January and February in my opinion are the best two months of the year for targeting Redfish on fly. The shallow and often calm waters around Ozello and Crystal River are ideal for spotting these camouflaged fish and once you have a bead on a fish's direction one false cast will have you in the game. The key when choosing fly patterns this time of year is to find a pattern that has materials that move in the water when the fly is not being stripped. Craft fur, Deer hair and Marabou are commonly used materials that appear life like when wet. The top flies for targeting Nature Coast Redfish such as Redfish Sliders, Craft Fur Shrimp, Clousers, Spoon flies and even top water Gurglers all contain these popular materials. Just remember sometimes the best strip is NO strip at all. In other words let the fly work for you.
CRYSTAL RIVER AND HOMOSASSA BEST BET:
Anglers that are looking for something tasty to put on the plate this month will be targeting large Sheepshead up to 10lbs around many of the bridge pilings, channel markers, oyster bars and rock piles that are scattered through out the Nature Coast. Successful anglers will find these structures loaded with pre spawn Sheepshead that will be feeding like crazy before heading offshore to spawn. Live shrimp, blue crabs, fiddler crabs, oysters and even barnacles are all select baits for targeting these constant nibblers. When fishing for Sheepshead the key is to be patient as every nibble has the opportunity to become a 10lber.