Happy Mothers Day to all of those Mothers out there!! And boy if you have stepped out side lately you will have noticed that it is hotter than a Mother out there. That's not exactly a bad thing either. If you pay attention to records than one may have heard that the month of April was the warmest April on record. All of those 80 degree days of April quickly jump started our Spring bite and at this point in time there are even indications that our summer fishing patterns will be begging sooner than normal.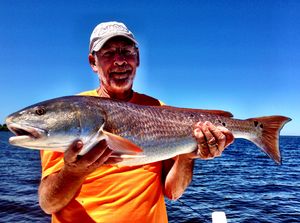 With all of the warmer weather that the Nature Coast has become accustomed to it has become a little bit more of a challenge to keep up with our fishing patterns as our water temperatures continue sky rocket. 80 degree water temperatures are normally consistent during early June but with the added warmer water influencing our local waters now is the time to jump into some great hot water action. Huge Black Drum are the first species to catch most of our anglers off guard this time of year. Typically HUGE Black Drum are a reliable species in the warmer months of July-September but the added warmer weather has put many schools of these fish right on some of the major flats were we should be targeting Redfish at this point in time. The added bonus of having these huge species around while your sight fishing for Redfish makes for a pretty exciting day, especially when you can latch on to a fish ranging from 20-60lbs in less than a foot of water.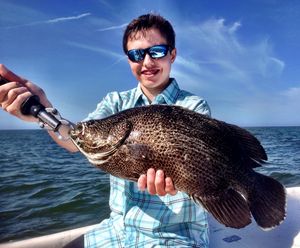 Speaking of less than a foot of water: For those anglers that are in love with our sight fishing for Redfish action now is the time to shoot for some of the largest fish of the year. The warmer weather and lack of rain have turned our backcountry waters from Homosassa-Yankeetown into a crystal clear fish bowl. Sight fishing tailing Redfish is at its peak at the moment especially when the tides are at their lowest points around the full and new moon portions of the month. Casting live shrimp and small flies has yielded some great catches and it has not been uncommon to come across some extremely large schools of feeding fish in the most extreme areas that we fish. For those anglers that are looking for some incredible backcountry fishing action now is the time to hit our local waters for some great scenery and sight fishing.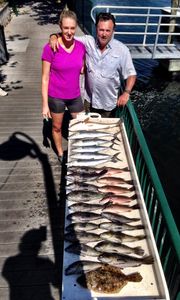 As good as the skinny water action has been over the last few weeks it's hard to believe that the near shore action for Speckled Trout, Spanish Mackerel, Seabass, Pompano, Flounder and Snapper has been just as good if not better. Running and gunning from structure to structure has yielded some great mixed bag catches over the recent weeks. Fishing weedlines, rock piles, markers, and oysterbars offers anglers the best chances for mixed bag catches. The key to running and gunning is to keep an eye out for other pelagic species on swimming on the surface. Cobia and Tripletail are just 2 of the many pelagics species that savvy anglers will encounter during their day. Rods rigged up for free lined shrimp and Pinfish should be readily available and the beauty of this simple rig is that a nose hooked 7" Jerkbaits can also be quickly used to entice the largest of large Cobia along the Nature Coast.
* Tarpon time is here. May and June mark the start of the Nature Coast Tarpon migration and for those anglers that are lucky enough for great weather and tons of fishing, memories will be made over the coming weeks.