Every year along the Nature Coast there is one month out of the year that becomes the month to remember. For the most part every month out of the year leads to a number of great memories while fishing the waters off Crystal River and Homosassa but it has been the recent stretch of weeks dating back to the middle of November until the present that have led to some awe inspiring moments.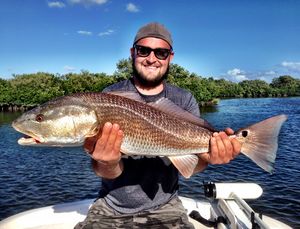 The beautiful weather and variety of wildlife that have been taking refuge along the Nature Coast has been truly special this month. White Pelicans, Bald Eagles and Rosette Spoonbills are just a few of the migratory bird species that we have encountered during our days out on the water. With so much going on in the air sometimes it has been hard to keep our focus on the water but with late season feeding frenzies happening on our local waters this month, the action above and below the water is something to see.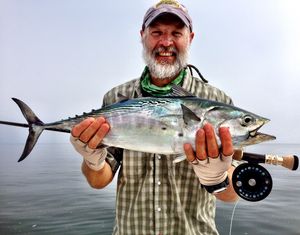 Diving birds are what most anglers are look for this time of year as they're a great indication that there are tons of bait and predatory fish nearby. During the cool down period of December you really never know which predatory fish are swimming by as most if not all local species are feeding like crazy before the winter season (if it ever gets here). During one week earlier this month while running and gunning from feeding frenzy to feeding frenzy my anglers and I were rewarded with some fast Action while catching Bonita, Spanish Mackerel, Jack Crevalle, and Ladyfish cast after cast. As Awesome as this was it just so happened that our last feeding frenzy of the day would be the most epic as we ran across a large School of Giant Black Drum in 10ft of water. Armed with our fly rods and high hopes we ended our day by landing three Monster Black Drum all over 30lbs on Fly!! Life is Good!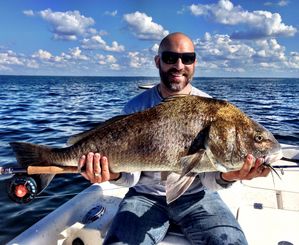 As great s some of our fly fishing Action has been in recent weeks, our backcountry Redfish and near shore Grouper Action throwing Plugs has been the real talk of the town. Most anglers think that to catch any Grouper at all anglers will need to travel long distances to target these hard fighting fish on heavy tackle. What if I told you that we not only catch Grouper in close proximity to our backcountry Redfish grounds, but we also catch very LARGE Grouper close to our Redfish grounds? Targeting both backcountry Redfish and near shore Grouper in the same day are a common occurrence this time of year. Although our Gag Grouper season commences on December 3rd we still target large Grouper to catch and release using Large TopWater Lures and Casting plugs aimed at dredging the depths of 5-7ft of water. To say the least if you have never landed a Redfish and Grouper on Topwater lures in the same day you do not know what you're missing.
With our local weather forecast remaining extremely promising and still plenty of available fish species to target, now is a great time to enjoy the best fishing of the Nature Coast. Whether it's a backcountry adventure out of Crystal River or near shore Grouper trip out of Homosassa Florida Fishing Adventures can customize a first class trip for everyone to enjoy.
REEL FLORIDA FISHING CHARTERS GIFT CERTIFICATES MAKE GREAT CHRISTMAS GIFTS!!!