Spring has finally arrived here along the Nature Coast and the sounds of cheering, chanting, and high fives from rewarded anglers is echoing throughout our coastline. Fall temperatures have been the catalyst for some of the best fishing of the year and whether your fishing for Largemouth Bass, Redfish, or Gag Grouper our freshwater lagoons, backcountry flats, and near shore rocks, wrecks, and reefs are loaded with great fishing opportunities this month.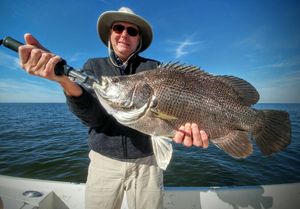 For lucky anglers interested in a true "Do It All" Florida Fishing Experience now is the time to hit the waters of the Nature Coast to check off a number of bucket list species. With our local water temperatures approaching that magical 74 degree mark all local species will continue to feed heavily in preparation for the winter season. Redfish, Speckled Trout, Snook, Black Drum and Mangrove Snapper will continue to feed heavily along our inshore waters in preparation for a migration into our spring fed river systems. In certain situations many of these species can be found roaming some of the same structure systems scattered through out the Nature Coast. Oyster bars spanning from Homosassa to Crystal River are a favorite structure for most fish this time of year. Congregations of Shrimp, Crabs, and a variety of baitfish turn many oyster bars into buffet lines. Chumming with shrimp and crabs will definitely attract these species to your baits and free lining a live shrimp on a ¼ oz. jighead will surely get the job done.
As great as the inshore fishing will continue to be the rest of this month it will be the near shore fishing for Tripletail, Gag Grouper, and late season Cobia that will draw all of the headlines. As the massive schools of threadfins, glass minnows, and ballyhoo that have been gorging themselves here for weeks begin moving offshore they will be met head on by schools of hungry Spanish Mackerel, False Albacore, and Bluefish. Whichever baitfish are able to survive this onslaught will then be met by late season Tripletail and Cobia patrolling many of the Stone Crab Traps that have found their homes since the opening of the season on October 15th. Both Tripletail and Cobia love curious baitfish that are interested in the protection of the kelp grass wrapped around many of the floating trap buoys. Ironically enough a Tripletail is camouflaged to look exactly like kelp grass and once a baitfish or shrimp gets a little to close to the grass, It's over!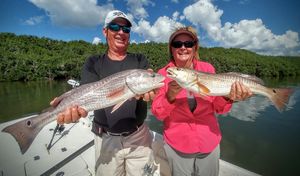 If any of the exiting baitfish think life will be a little safer closer to the bottom of our near shore waters then they will have the unfortunate opportunity of meeting one of the tastiest fish species on the planet. Gag Grouper are abundantly congregating around the usual rocky outcroppings and ledges scattered along our area. Trolling and casting lipped plugs will yield the best results but for those anglers interested in bottom fishing opportunities this time of year think of using slower moving baitfish such as pigfish or small lizardfish. Frozen Sardines and Threadfin Herring are also good choices.
Long story short the weather is great and the fishing is even better!!! Get out and enjoy some of the BEST Fishing Action found anywhere on the planet or feel free to contact FLORIDA FISHING ADVENTURES to schedule your next Fishing Adventure.
REEL FLORIDA FISHING CHARTERS GIFT CERTIFICATES MAKE GREAT CHRISTMAS GIFTS!!