The BITE is on here in Crystal River and Homosassa!!! What do you want to catch? How do you want to catch it? These are all questions I've been asking my anglers in recent weeks as we have been targeting on average 15 different species of fish daily. Redfish on fly? Done! Speckled Trout and Snook on Topwaters? Not a problem. Monster Sharks on light tackle? Bringing it on! These are just a few of the great options that Nature Coast anglers will have to go along with targeting Sheepshead, Black Drum, Flounder, Spanish Mackerel, Bluefish, Cobia, Pompano, Tripletail, and even Permit this month.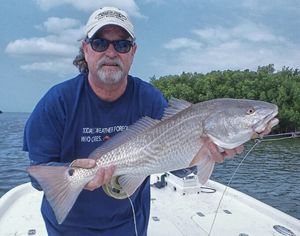 With so many options available to visiting anglers it has been fun trying to set up a game plan to fit everything possible into one trip. Luckily most of our best fishing has been found in or near the Ozello area. Ozello is an incredible estuary system that lies in between Crystal River and Homosassa. The north side of Ozello features the Salt River, which is a mecca for anglers searching for tailing Redfish or hungry Gator Trout. The spartina grass shorelines and scattered oyster bars are choice areas to target with either live or artificial baits.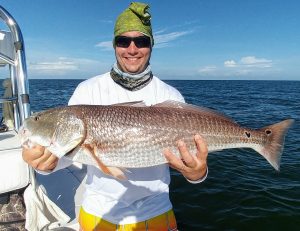 The south side of Ozello is a true gem. Here anglers will find the brackish waters of Fish Creek mixing with the Gin Clear waters of the St. Martin's Keys. This area has often been described as "Heaven on Earth" do in part to its pristine flats and mangrove laden shorelines. It's these backcountry mangrove mazes where anglers will find the Northern most range of Florida's west coast Snook population. Because Snook are relatively new to the area and sources of Whitebait (Snook Candy) are relatively scarce methods for targeting these hefty "Linesiders" are still a work in progress. Successful anglers have found that targeting these fish during the early morning hours with topwaters and soft plastic jerkbaits tend to be the baits of choice. Nose hooked DOA Jerkbaits and large Johnson Silver Spoons are my preferred baits for Nature Coast Snook.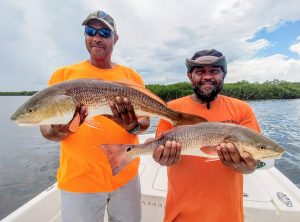 For those anglers that are looking for a ton of variety, the flats and shallow rock piles on the west side of Ozello is where anglers can find consistent action from a variety of species. During the months of Spring chumming deep holes and rock piles just off the coast will consistently have anglers hooked up with Cobia, Spanish Mackerel, Sea Bass, Snapper, Grouper and a variety of Sharks. The trick when fishing these near shore structures is to be ready for everything. 10lb spinning tackle is by far the way to go when targeting smaller Snapper and Sea Bass but having a 20lb rod rigged and ready with a large 7" jerkbait or an Berkley Gulp! Eel will pay off huge dividends when a Monster Cobia shows up chasing in one of those tasty Snapper you have been reeling in.
The time is NOW to get out and enjoy some of the Best fishing of 2017!! Life is Good on the Nature Coast!