When an individual thinks of vacationing in Florida over the winter I am sure like many the first images that pop into the minds of most are Disney World and the famous beaches which Florida has long been known for. Although this may be hard for most to believe the true gem of Florida lies just to the West of Disney and North of those famous beaches. The Nature Coast of Florida (including Crystal River and Homosassa) has quietly been kept a secret by most Floridians for decades. The crystal clear waters of our local spring fed rivers have been home to Manatees, Dolphins, Otters, Fish and many Migratory Birds for centuries and Nature Lovers from all over the world flock to our area this time of year to enjoy some of the best sights, scenery, and fishing found anywhere in the world.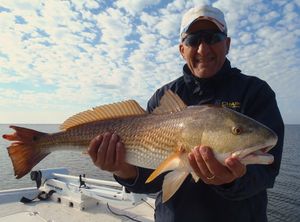 Although the scenery and wildlife may be the biggest draw to the Nature Coast this time of year, the fishing/catching is what tends to bring anglers back for years to come. The gin clear flats off Crystal River and Homosassa are teaming with a variety of species including Redfish, Speckled Trout, Snook, Permit, Snapper, Black Drum, and Sheepshead this time of year. And with opportunities to catch a West Coast Slam (Redfish, Speckled Trout, Snook) on a regular basis plus a variety of other species throughout a day, the Nature Coast is the place to be for an off the charts angling experience.
If you enjoy casting lures, soaking a live bait, or throwing a fly there are plenty of angling opportunities available over the next few months along the Crystal River and Homosassa areas. With many of our inshore game fish moving into the rivers, backcountry potholes, and shallow flats the key to being successful this time of year is to be versatile. On days where water temperatures may be a bit cooler than normal think of working baits extremely slow in areas where most waters warm up the quickest. Deep Holes, Springs, and Discharge areas tend to hold warmer water temperatures than surrounding waters and thus more temperature sensitive fish tend to hold close to these staging grounds for warmth and food.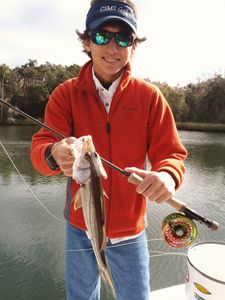 I for one enjoy targeting fish in extremely shallow water this time of year. This game plan can be tricky but very successful when executed. Shallow water cools faster than deeper water over night but warms quicker as the day progresses. When working shallow water it is important to use baits, lures or flies that have minimal splash when entering the water. Weedless Jerkbaits, Texas rigged Gulp! Shrimp and Flies are ideal for working shallow water situations. An important aspect to consider when working shallow water fish is to work your bait as slow as possible. Most fish are not willing to track or chase baits once water temperatures drop into the low 60's. There for baits that have imbedded scents and fly's that have active materials are keys to success during this time of year.
So with Fantastic scenery, fishing, and wildlife only a short drive away from most tourist destinations why not consider the Nature Coast of Florida during your next Florida vacation plans. For information on reserving your next inshore light tackle fishing adventure please feel free to contact Capt. Kyle Messier @ (352) 634-4002 or kylemessier@yahoo.com.
REED FLORIDA FISHING CHARTERS GIFT CERTIFICATES MAKE GREAT CHRISTMAS GIFTS DURING THE HOLIDAY SEASON!!!