Of all the different species of fish that can be caught here along the Nature Coast of Florida, Tarpon are by far the most sought after. Anglers from all over the world continue to flock to the crystal clear flats surrounding Homosassa and Chassahowitzka this time of year in search of one last shot at landing a fish of a Life Time. So what makes Tarpon fishing so popular? After all this is a catch and release species with no table value what so ever. To put it simply they get big, they fight hard, they jump and they can be caught in shallow water (this is where you would drop the mic).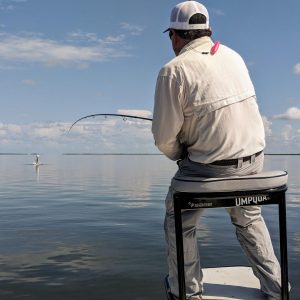 Seasonal anglers visiting Homosassa know that it's not a matter of "IF" you are going to hook into a fish of a Life Time it's only a matter of "WHEN". Targeting fish ranging from 100-180lbs is the fishing pinnacle for most visiting anglers and challenging fish of this size during some of Florida's warmest weather requires determination and stamina. Anglers armed with 12wt fly rods and reels with enough backing to cover 2 football fields will have one more month to try and pull of this feat as most of our Tarpon begin migrating out of the area. Late season flies of choice are all big EP Baitfish patterns in Black and Purple or Black and Red. The bigger the fly the better right now as most of these fish are gearing up to feed one last time before heading to cooler offshore waters to spawn.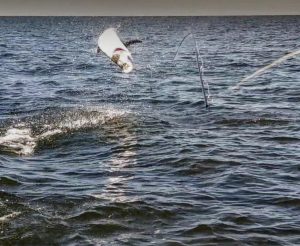 Speaking of warm Florida weather do you know the best way to stay cool in July? Try Scalloping. It's like going on an underwater Easter egg hunt that results in a bag of tasty scallops to cook up. Here along the Nature Coast we're fortunate enough to have 2 of the best scalloping destinations found any where in Florida right in our backyard. The waters off of Crystal River and Homosassa normally run in the range of 3 to 6 feet making this the perfect location for Scallopers of all ages and skill levels.
When scalloping, finding areas of sea grass with sandy potholes is key. Also, not all sea grasses are productive for finding Scallops. Grasses that are shorter and thinner that grow in white sand typically will offer better scalloping. A scallop looks like the Shell gas station sign with a dark top shell and a white bottom with 20 pairs of little blue eyes. When you see them in the grass the darker side is up and the opposite when they are in the sand most of the time. Florida regulations allow 2 gallons of whole bay scallops in shell, or 1 pint of bay scallop meat per person with a maximum of 10 gallons of whole bay scallops in shell, or half-gallon bay scallop meat per vessel. The season is from July 1 to Sept. 24 and all you need to enjoy this awesome under water activity is a mask, snorkel, fins, and a catch bag to put scallops in.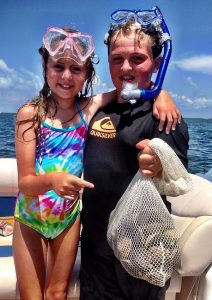 Scalloping Tip: Visiting Scallopers will find that the last part of the outgoing tide and the first part of the incoming tide are ideal for finding Scallops. The lesser tide will position sea grasses in a more vertical setting giving up Scallops hiding closer to the sandy bottom. This is also a great time to hit those deeper spots that can be more challenging to get down to.