Welcome Anglers! This months fishing report is devoted to the most impressive fish species that cruises up and down the Gulf coast of Florida. Tarpon are by far and away the number one most targeted species during the month of June. With most Nature Coast Tarpon averaging close to 100lbs and the possibility of tangling with a fish close to 200lbs its no wonder why many anglers are calling in sick to work or quitting their jobs all together to pursue the obsession known as Tarpon fishing.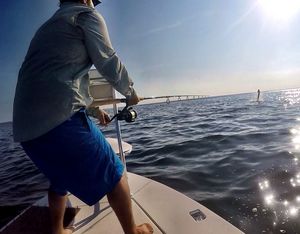 Every May and June along the Nature Coast spin and fly anglers come from all over the World to try their luck at Tarpon fishing one of the most famed fisheries found anywhere in the world. The pristine grass flats encompassing Bayport, Homosassa, and Crystal River are some of the most prestigious Tarpon flats in the world and this time of year massive schools of Tarpon migrate north up the Gulf coast of Florida foraging as they travel. The beautiful white sand flats off of Bayport and the gin clear grass flats off of Homosassa are the Tarpons final feeding grounds before many of these fish venture offshore to spawn. Just like most pre spawn fish the Tarpon that roam the Nature Coast this time of year are some of the largest found anywhere in the world.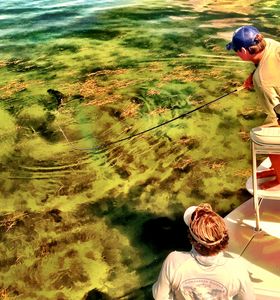 Targeting "Silver Kings" can be accomplished with a spinning rod and a well placed crab, pinfish, or large Jerkbait but most anglers will find that targeting Tarpon on Fly is the preferred method for most successful anglers. The Nature Coast boasts the 3 largest Tarpon ever landed on fly including a behemoth weighing in at 202lbs. As great as this accomplishment has been for men searching for personal records we now have women showing up on the flats and staking their claims on personal records as well. Tarpon weighing in at around 160-170lbs have already been landed on fly by women in the last few weeks and with a pending women's World Record on the way the flats off of the Nature Coast will continue to draw excited anglers to our local flats for years to come.
When choosing flies and fly lines to do battle with a Tarpon its important to consider the depth an angler will be targeting as well as the bottom color your fishing. Normally our local flats tend to be shallow and clear with depths averaging around 4-6ft of water. With water depths so shallow a weight forward floating fly line is a great all around line to use. Scientific Anglers Mastery Series and Rio Tarpon fly lines are choice lines that most of my fly anglers prefer. When choosing Tarpon fly's think small. Tarpon flies are normally tied on a 1/0 hook and tied with materials that create a dark silhouette and become lifelike when wet. Flies tied in all black and black and purple with marabou, craft fur, bunny, or a couple of splayed hackles will bring a wet fly to life when stripped. Variations of Toads, Megalopsicles, EP Baitfish flies, and smaller Black Death Patterns are very successful patterns that move just enough in the water to entice the keen eye sight of a hungry Tarpon.
Just remember to hold on after the strike!! And always bow to the KING!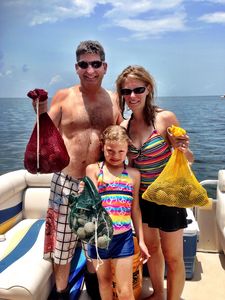 JUNE 25TH MARKS THE OPENING DAY OF SCALLOP SEASON.
BE SURE TO PLAN AHEAD AND RESERVE YOUR UPCOMING SCALLOPING ADVENTURES WITH REEL FLORIDA FISHING CHARTERS.