Finally! Tarpon Time is here along the Nature Coast. This long awaited season has been highly anticipated since the banner season of 2016 came to a close last July. With all of the warmer than usual weather this winter myself and many of the other local Tarpon Guides from the area had all wondered what this season would bring. Would the Tarpon show up early this year? Would the season run extremely short? Would the fish even show up at all? These were just a few of the many questions we had all wondered after the unusually warm winter and dry spring we faced this season.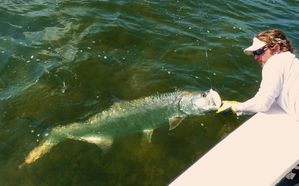 The Good news is that the Tarpon never strayed from their relatively reliable migratory pattern. Yes! There were a few schools of Large Tarpon that showed up during the later portions of April only to be shell shocked by a couple late season cold fronts. That's the beauty of the checks and balances system in the world of Tarpon fishing. A warm winter is usually met with a late season cold front that keeps the Tarpons northern bound migratory pattern in check.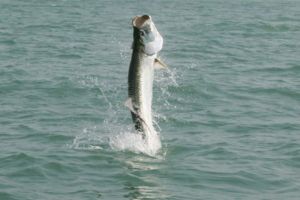 May 15th symbolically has been the starting date for what I would consider the Prime Time for Tarpon fishing the Nature Coast.   Its during this time frame that most of the lingering cold fronts have a tough time making it this far south and it's also this time when our local water temperatures reach that magical 74°-76° water temperature. Water temperatures are critical for Tarpon as they are considered tropical fish that require a certain water temperature to feel safe and actively allow them to feed. The cooler the water temperature the slower a Tarpons metabolism will be. The higher the water temperature the higher a Tarpons metabolism will be for feeding. When our local air temperatures find the 90° degree mark and our water temperatures hit 80° look out Homosassa, The Tarpon World will be on FIRE!!!
At this time visiting anglers are finding great Tarpon on fly action in and around the Homosassa and Chassahowitzka areas. These areas of lightly colored sandy bottom and vast areas of grass flats make up the perfect staging grounds for hungry Tarpon looking for one last meal before heading offshore to spawn. Shrimp, Crabs, Pinfish, Pigfish, Needlefish, Threadfin Herring, and Ballyhoo all make up a Smorgasbord of prey options for Nature Coast Tarpon. Flies of choice for this time of year are Black and Purple Toads, Burnt Orange EP Baitfish Flies, and Chartreuse Megalopsicls.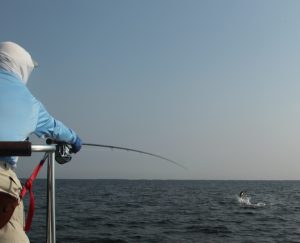 As the season progresses and these Tarpon continue on their migratory path up the Nature Coast bait fishing anglers in Crystal River and Yankeetown will find Tarpon cruising just offshore of some of the most westerly islands. Mangrove Pt. in Crystal River and Porpoise Pt. in Yankeetown are two great areas for those anglers that are interested in tossing small crabs and pinfish to Tarpon. The key when fishing these areas is to look for and spot rolling fish. Rolling fish typically are on a migratory mission when these reach these areas so anglers will need to get way ahead of the traveling fish and gently present their bait's of choice. Patience is key and often the bite of a Tarpon can be very faint. I prefer using 60lb Fluorocarbon leaders tied on to a 4/0 extra heavy wire circle hook. The circle hook does wonders for taking the guessing game out of a Tarpon Bite.
Captains Tip: Just because one or two fish are spotted rolling doesn't mean that there are only one or two fish in a school. It's not uncommon to find 100 fish schools this time of year. Approaching traveling fish from a distance is key when targeting Tarpon this time of year. Electric motors or push poles are a must.