Goodbye 2012, Hello 2013!! 2012 was a very good year for Florida Fishing Adventures and the many anglers that fished with us this past year. With tons of firsts, banner fishing days and memorable weather days over the past year it's going to be hard to usher in a new year when the old one was so good to us. That being said 2013 is already shaping up to be a Great Year. With decent winter weather forecasted over the next few weeks' life is looking good here along the Nature Coast.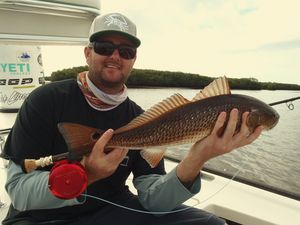 With our winter weather scenario looking very mild for the month of January most anglers can count on some great skinny water fishing action along the Crystal River and Homosassa areas. January has long been considered a prime month for targeting skinny water fish including Redfish, Speckled Trout, Sheepshead and Giant Black Drum due the negative tides the winter months are famous for. Areas that normally hold constant water depths throughout the Spring, Summer, and Fall are left nearly bone dry during certain tides throughout the winter months. With such shallow water depths occurring over the next few months targeting fish in extremely shallow water is a sure bet this time of year.
The most popular game fish that will be targeted during these winter low tides will be our Redfish. Targeting Redfish in extreme shallow water is one of the most exciting fishing events that occurs along the Nature Coast throughout the year. We often target these fish in less than a foot of water and the lower the tides the better this fishing can be. As the tides fall most of our Redfish hold close to some type of hole or divot along a shallow flat. These fish forage on the shallow flat but use the hole to flee from predators (such as osprey and eagles). When these fish forage on their particular flat they often plant their faces deep into the grass beds and use their noses like shovels to move around dirt and dig up shrimp or crabs.   As these Redfish consume themselves with a bounty of prey in shallow water they often find that parts of their tails and backs become exposed due to the receding tides. This is the spectacle that all shallow water enthusiasts dream of sight fishing to a tailing fish. Mainly because a Tailing fish is a feeding fish. Live baits, lures and flys will all prove to be successful but just keep in mind that a fish in skinny water is always on edge. Baits and fly's that can be delicately presented will be the most successful.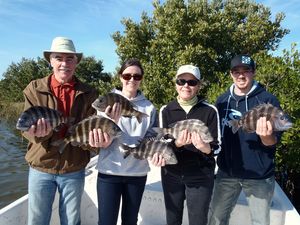 As awesome as the skinny water action is along the Nature Coast at the moment, the Sheepshead action along many of the oyster bars, rock flats, marker pilings and rocky holes is just as good. Sheepshead are probably one of the most tasty fish that swims and with huge schools of fish congregating around many local structures now is a prime time to target these prespawn hard fighting fish. Chumming an area that holds Sheepshead is a sure way to create a feeding frenzy. Chumming with shrimp, crabs, oysters, and even barnicles will surely entice most Sheepshead to bite as they do not let most meals go by at the moment. The trick when fishing for Sheepshead is to try and withstand the first few initial pecks of your bait. Often when these fish are pecking at your bait they are just taste testing it to make sure it's something they want to gorge on. Most of the time you will receive 4 or 5 small tap, tap type bites before the major bang bite occurs. This fishing is a ton of fun for kids and adults alike. It can be a little bit of a challenge but once you get the hang of it, these fish in Pinstripes will keep the entire family entertained.