The month of August was made for catching Redfish and Sharks along the Nature Coast.
Looking for some exciting Redfish action this month along Florida's Nature Coast? Well look no further than the many spoil and mangrove-laden islands scattered throughout our coast of the Gulf of Mexico. From the shallow flats off Chassahowitzka Point to the spoil islands off the barge canal in Yankeetown, our anglers have been spoiled in recent weeks with some of the hottest Redfish action of the year. These fish are not just plentiful this time of year, they are LARGE and they're Hungry. Large hungry fish is all you need to know when excited anglers are looking to land some of the largest Redfish of the year.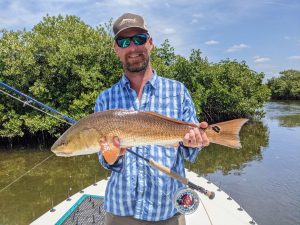 Although it can be downright steamy this month, our savvy group of guides have been putting together all the right pieces of the puzzle including time, place, baits and tackle in order to reap the rewards of some of the best Redfishing of the year. In order to beat the heat and catch the best bite of the day our guides have been hitting the water before sunrise to stake their claim on their favorite flats and points. As we speak massive schools of pre spawn Redfish are congregating in the Gulf just outside of the western most mangrove and spoil islands and from now through September, these enormous schools will partake in their annual spawning rites, and for anglers lucky enough to see the water literally turn red when a school goes into a feeding frenzy, well, it's an unforgettable image etched into an angler's memory.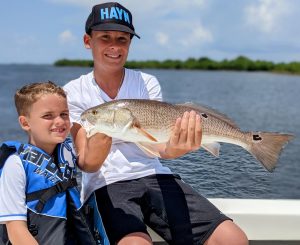 Most of these bronze brutes will be caught by our anglers using live baits and artificial lures but opportunities to put up some serious numbers on fly certainly exist this month. With so many fish in competition to feed before the spawn its not uncommon to "load down every rod in the boat" when a massive school of Redfish invade your position. Medium spinning rods rigged with ¼ oz jigheads and 2/0 live bait hooks will ensure anglers are ready to pitch an assortment of live baits and fly anglers need to have lines and flies that are capable of sinking down into these migratory fishes strike zone. Sink tip fly lines are a must this time of year and weighted shrimp and crab flies have been deadly in enticing these hungry Redfish.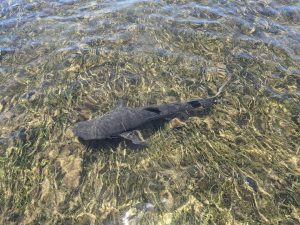 SchoolsRemember, Big Sharks, Jack Crevalle and even Tarpon, on occasion, travel with these big schools of Redfish, so all of our guides are prepared with a variety of stout spinning rods and reels capable of handling any larger fish we come in contact with this time of year. Because of the large presence Sharks this month it's also very important to get all fish boat side and released in a quick manner. Nothing will ruin an incredible Redfish bite quicker than a Shark feeding frenzy within a school.
BIG NEWS!!!! ALL REEL FLORIDA FISHING CHARTERS ARE NOW ALL INCLUSIVE. Enjoy a great day out on the water with your favorite fishing guide's along the Nature Coast and Lunch is now included courtesy of Sea Hag Deli on every full day trip.
Capt. Kyle Messier
(352) 634-4002