AH YEAH!!!!! The New Year is finally upon us folk's and if the fireworks happening on the water at the moment are any indication of where this New Year will take us, I for one am super stoked about the prospects of 2022 going forward. Clear skies and low humidity have led to some incredible fishing weather days in recent weeks. It's not often that the peninsula of Florida experiences warm weather that includes little to no humidity but we'll take it. As most locals will tell you, it's weather like this that ends up costing a lot of families a ton of money as plenty of new homes and boats will be purchased in the coming weeks. Come One, Come All and Start Living The Florida Dream!!!
KYLE.CITRUSCOUNTYHOMESNOW.COM (Real Estate Info)
The anglers lucky enough to hit the water with Reel Florida Fishing Charters over the prolonged stretch of incredible weather will tell you plenty of stories regarding the extremely memorable skinny water Redfish action featured along the flats of both Crystal River and Homosassa. Ankle deep water is the name of the game this time of year as predominantly easterly breezes do a fantastic job of slowing down even the strongest of incoming tides. This is the time of year where skinny water poling skiffs are utilized to take advantage of some of the best tailing Redfish conditions of the winter. Skiffs like my very own Maverick HPX-S were specifically designed to float in 4-6" of water in order to target Redfish in the shallowest of water depths where these fish feel the most comfortable. Guides like myself and skinny water junkies interested in chasing Redfish in water so shallow that most of their bodies are exposed, actively seek out the negative tides that are predominantly featured during the months of January and February as hungry Redfish lazily feed on whatever shrimp or small crab's expose themselves.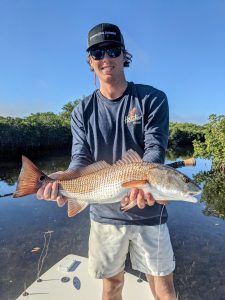 In certain instances the shallower the tides the more congregated schools of Redfish will become. On January 5th for instance my angler Howard and I fished a day where a -1.0 tide was featured making navigable poling water tough to find. After a hell-raising ride over the lime stone flats and through the maze of mangroves the Nature Coast is famous for we settled in on a flat that was surely heading towards dry within a short period of time. Long story short we had a small window of time to pull something off and as the tide dropped so did the Redfish. Hundreds of hungry Redfish dropped right into a small channel where at one point in time our boat was surrounded by tailing Redfish in all directions!!!! This was a crazy sight to see but one I was glad to witness first hand.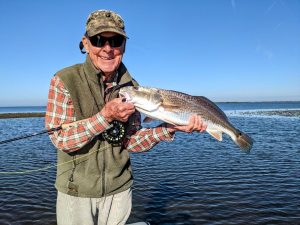 As most of my angler will tell you, tailing Redfish (outside of Tarpon) is my kryptonite. I love these fish almost as much as I love my wife. They are challenging, yet accommodating. One day they are easy. The next day they have a snotty attitude. When a feeding Redfish pops their tail up out of the water it almost reminds me of the that bra clasp I could never figured out. I love the challenge and so do most of my anglers. Live baits are looked at. Flies are followed. Join the club and work on cracking the code like the rest of us.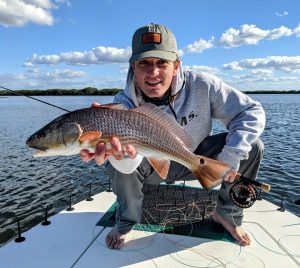 Long Live Tailing (WISE) Redfish!!!!!
CHEERS!!!!!
Capt. Kyle Messier
352-634-4002