As we slide into the half way point of 2011 its hard not to look back and reminisce on the year that has already been stellar to say the least. So far 2011 has already provided us with the best Giant Black Drum and Tarpon action the Nature Coast has seen in nearly a decade. And if the recent Redfish, Flounder, Mackerel, Snook and Snapper bite is any indication of what to expect for the rest of the year, Nature Coast Anglers could be inline for what only can be described a Smorgasbord of opportunities for the rest of 2011!!!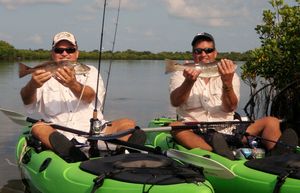 The Redfish bite as always this time of year is climbing towards its peak. With cool rains occurring during most afternoons water temperatures are hovering around a moderate 88-90 degrees making for ideal conditions when targeting these fish with bait, lures or flies. Obviously, most of our success is occurring while pitching shrimp, pinfish, and cut bait towards our targeted areas, but the real treat over the last few weeks has occurred while working topwater lures up and down many of the scattered shorelines throughout the area. For one the aerial assault a Redfish can put on a Topwater lure is truly amazing to say the least, but if you're lucky enough to have a Snook come in contact with your lure, you are surly to see some acrobatics that are fresh out of Cirque du Soleil.
A real treat over the last few weeks has also been the accessibility of the tremendous Red fish bite for many of my kayak anglers. During a recent early morning kayak trip myself along with my clients Dennis and John had a fantastic early morning Redfish bite while we were targeting tailing fish in ankle deep water. Now this occurrence doesn't happen every day, but during this time of year when you can get the right early morning low tide, chasing tailing Reds in kayaks can be completely heart stopping. The advantages of targeting shallow water Reds in kayaks is twofold: For one you can approach most fish with a reasonable amount of stealth which will provide you with normally high hook up ratios. Plus kayaks usually can get into most areas that other boats that may have draft issues can't get into.
Another perk of the afternoon rains affect on local water temperatures is the resurgence of the Summer Flounder on many of the areas sand and rock bars. Historically, when water temperatures reach their extremes most flounder will look for deeper, cooler water to stage in. But with water temperatures remaining consistently cooler than normal our local waters have seen an influx of the tasty flat fish. Targeting Flounder is as simple as making long drifts and jigging shrimp over many of the sand bars scattered across the area. The key when Flounder fishing is that when you catch one, chances are there are usually a few more around the same area. Chumming can also work well when Flounder fishing but keep in mind Catfish and Pinfish also like these sand bars so be prepared to bring plenty of shrimp.
THE FUN FAMILY ADVENTURE OF SCALLOPING IS IN FULL SWING HERE ALONG THE NATURE COAST. AND WITH REEL FLORIDA FISHING CHARTERS OFFERING HALF DAY FISHING AND SCALLOPING PACKAGES WHY NOT PUT A LITTLE FISH AND SCALLOPS ON THE DINNER MENU THIS EVENING.