Over the last few weeks anglers fishing the Nature Coast of Florida have been extremely blessed with great weather and some unbelievable fishing action. To say that I am surprised at how well the beginning of Spring has been over the recent weeks still remains an understatement. With water temperatures hitting the magical mark of 69 degrees weeks earlier during this New Year plenty of species are reaping the benefits of our great weather situation, but none more so than the Redfish.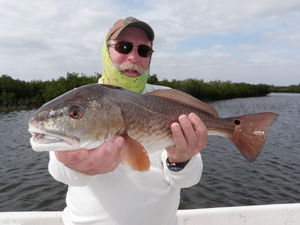 Tons of Speckled Trout, Pompano, and Spanish Mackerel are making their mark on our local flats at the moment but the crown jewel of the both the Crystal River and Homosassa areas is the UNBELIEVABLE Redfish action that is occurring as we speak.  Schools of 40-70+ fish are scattered all over the local flats and backcountry bays and with most of these fish in the upper slot to way outside the 27" slot there is a fish memory to be had with every hook up.  Over the recent weeks we have used a variety of techniques to target and land some of these hefty Redfish. Live Shrimp, Pinfish, Cut Mullet and a variety of lures have yielded some great catches but I have found that going old school and throwing extremely light lines with larger Gold and Silver Spoons has produced the best catches to date. What does a spoon imitate you may ask? I have been trying to figure that one out for years but I am assuming the flash mimics some type of injured bait fish and these fish are drawn to the flash and vibration.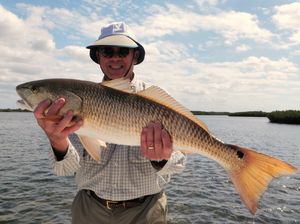 During a recent trip I had the opportunity to fish Larry and Rob Wolcott. We spent the early morning hours trying to sight fish some of these large schooling Redfish using both Shrimp and Jigs. After spending about an hour watching these fish basically swim over and around our rigs we made the decision to anchor way off of some of these schools and throw spoons to the WAVE (That's right a wave of fish!) of fish as they swam down the shore line. For those of you that may not be aware of the situation Spoons can be casted a mile and only need a basic retrieve to be successful. Our first attempt at this technique proved unsuccessful as we both panicked and hit 2 of the lead fish on the head (it's a wonder we didn't give those 2 fish concussions). But the second go was a success as Rob landed his Spoon at a great intercept point and was rewarded with his first and biggest Redfish to date.
The great part of that story is that there are many more where that came from and there will be even more as the week's progress. If you have ever had the opportunity to look at a satellite map of the Crystal River and Homosassa areas you would see that there are thousands and thousands of unspoiled islands, creeks, and coves that make up the landscape of our area. It's this vast amount of real estate that allows us to have one of the best Redfisheries in the state and I enjoy showcasing it on a daily basis.