Six inches of rain one day, Fourteen inches of rain over two days, a day of sun here a day of sun there. What's going on with this crazy end of summer weather pattern? From June 1st through September 12th, the areas surrounding Crystal River and Homosassa have received roughly 46" of rain. On average our area rainfall totals hover around 31" during the same time frame with most of that rainfall coming during the late afternoon hours when thunderstorms are more prevalent. You would have to go all the way back to 1960 to find a similar wet weather pattern when our area saw close to 48" from June through September.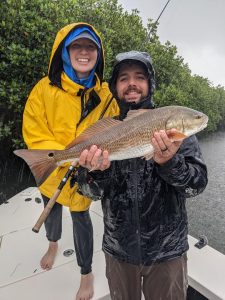 Now most fishing guides know better than to question Mother Nature, but by now you would've thought she would have made up her mind by now. The silver lining of this wet weather pattern is that with overcast skies comes cooler temperatures and lingering weather usually can be that catalyst for some incredible fishing days especially for those anglers who enjoy casting top water lures.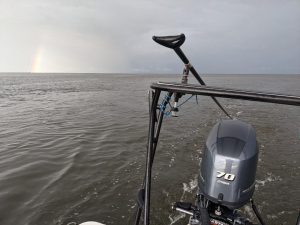 During a few of our most recent rainy day trips my anglers have enjoyed some great success fishing with "Walk the Dog" style topwater lures such as Rapala Skitterwalks and MirroLure TopDogs. The zig zagging motion these lures make when retrieved drives hungry Snook and Redfish nuts as the rattles in these lures clack back and forth.
When choosing the right TopWater for the day I find it more important to choose the right size instead of color. Considering most species of fish including Redfish and Snook rely on seeing shadows instead of colors choosing bait's that mimics the size of the prey in the area is extremely important. Most topwaters can be found in the 3-5" range and if BIG fish are what you're looking for, typically the bigger the lure the larger the fish. When fishing topwater lures I usually opt for consistent action so choosing lures closer to 3" works well for me and my style of fishing. The one constant no matter the size of the lure is that if it's worked properly with intermittent pauses it will get looks and often lots of looks especially on those overcast days.
Stay Salty My Friends!!!!
Capt. Kyle Messier
(352) 634-4002