Happy New Year!! As much as I hate to see the Awesome fishing of 2011 go, I honestly can't wait for the future fishing adventures that are in store for us during 2012. And if the weather is any indicator at how well our fishing year is going to be, folks we may be in store for another record breaking year.   The weather seems to be the major headline thus far going into 2012. With a few cooler days predicted earlier in the week, we still may finish the first week of the New Year with temperatures almost in the 80's. As you can imagine with weather this good and fish still seeming to be in their fall patters, the sky seems to be the limit as far as our angling opportunities are concerned.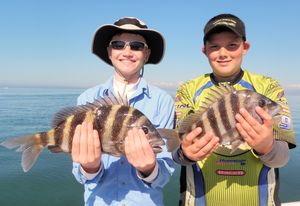 With so many fly angling options still available it's been a challenge to decide which species of fish to target. Do we go after tailing Redfish with shrimp patterns or crab patterns in the morning? Do we blind cast for hefty Gator Trout on some of our crystal clear flats poppers? Or de we go for the Gusto and load the boat with some of the tastiest fish on the Gulf Coast, the Black Sea Bass with of all fly's the Black Clouser? All in all these are some of the great fly angling opportunities that we will be leaning towards this month. And with plenty of other species available this month including Black Drum, Grouper, Permit, Pompano, and Sheepshead there should be plenty of opportunities to ring in the New Year with a drag screaming run from one of Florida's Finest.
Speaking of Sheepshead, as one of the tastiest and hardest fighting fish that swims in the shallow waters of the Nature Coast, the months of January and February are prime time to target these toothy critters. Normally, Sheepshead can be quite docile throughout the year, but the few months before and after these fish spawn leads to a Sheepshead feeding frenzy where these fish will eat any Crustacean pattern placed in front of their face. There are plenty ways to target these fish whether fishing from land or by boat, in fresh water or salt. However, my favorite way to target these fish is by sight casting shrimp or crab flies, to these fish while they are staging along many of the shallow water structures located along the Crystal River or Homosassa. Throwing pieces of crab and shrimp as chum will definitely help yield the most strikes but for something a little more challenging we like to throw shrimp and crab patterns to these fish while they are feeding which has proven very successful.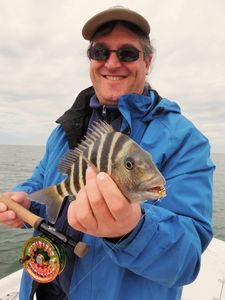 Historically January and February fishing can be a challenge both in fishing and in weather, but with an unseasonably warm weather pattern leading towards unseasonably great fishing, the start of the New Year could be one to remember.
**Keep in mind: In 2009 the best fishing month of the entire year was late January into February.**