Welcome Spring Breakers!!! I honestly can't say that I blame those fun loving beachgoers for wanting to soak up some sun during the spring break season here in Florida. What's not to love about warm sunny days and ice-cold celebratory cocktails? Sign me up as a fan favorite of both. For those folks looking for a slower leisurely pace the Nature Coast of Florida is rocking and rolling with fishing opportunities for anglers looking to bend a rod on either spinning or fly gear. Come one, come all. The Nature Coast is the place to be to get your rod bentJ.
Spin Fishing Outlook:
As we speak water temperatures are warming and baitfish schools are growing in size. With the year moving deeper into the Spring season anglers can expect to find more and more pelagics making their presence felt here along our local waters. Spanish Mackerel, Tripletail, Cobia, Sharks, and Bluefish will all be following these large bait schools as they move from their offshore safe havens onto our local flats.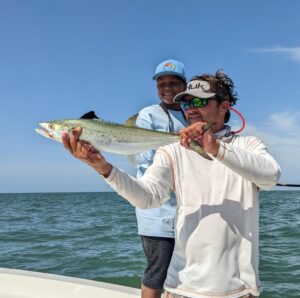 Anglers drifting and targeting Speckled Trout will be the first anglers to luck out and hook into the newly arriving species so it pays to be rigged and ready for a variety of species when hitting the water. Rods rigged with wire leaders are a must for landing toothy Spanish Mackerel and it definitely pays to have some larger gear on board as both Cobia and a variety of Sharks are starting to roam the flats off Crystal River and Homosassa.
Fly Fishing Outlook:
Can Tarpon season please hurry up and get here? Oh wait!!! We have already found smaller schools of juvenile Tarpon posted up along the coast as they make their way out of the spring fed river safe havens an onto the flats. As most fly anglers know targeting resident Tarpon can be challenging at times but it seems like anything in a chartreuses pattern is gaining these fishes attention.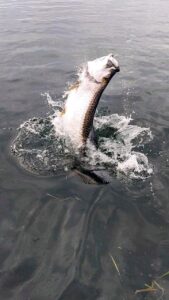 As most of my fly anglers have found out over the years I have a little bit of a Tarpon obsession. My son's name is Chase Tarpon Messier if that tells you anything. When our trips are not focusing on Tarpon we have been having a blast targeting both Redfish and Snook along the oasis of mangrove-laden islands scattered through out the St Martins Keys in Homosassa. EP baitfish style flies have been a sure bet but when all else fails a sparsely tied Redfish Slider has worked for both species when presented with lighter leaders and lines.
Fish On My Friends!!!
Capt. Kyle Messier
(352) 634-4002
WWW.FLYFISHINGCRYSTALRIVER.COM