Happy Independence Day to all! With the passing of one of the most celebrated holidays in the country comes another celebration for the openings of both Gag Grouper Season and Scallop Season. Historically, July 1st has been the landmark day for the opening of our Nature Coast Scallop Season. However, this year Gov. Rick Scott surprised us with an early opening to Scallop Season on June 28th. Since then the continued success of our 2013 Scallop Season has transitioned into this 2014 season as well.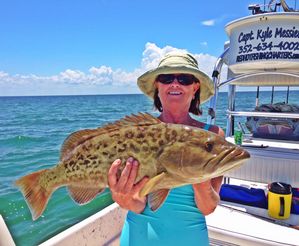 The crystal clear waters surrounding the Nature Coast are teaming with vast eel and turtle grass flats which make fantastic habitats for these tasty bay scallops. As the season progresses and certain weather patterns begin to take hold of our area, scallopers will find that scalloping on days around the full and new moon cycles combined with West wind days will provide the best results. The stronger tides and added bonus of the west winds will provide enough current that will propel many scallops closer to shore. With the Nature Coast offering over 20 miles worth of grass flats, scallopers from all over the southeastern US will be flocking to the areas around Crystal River and Homosassa to stake their claim on the best scalloping flats found anywhere in Florida. Why not join in on the fun?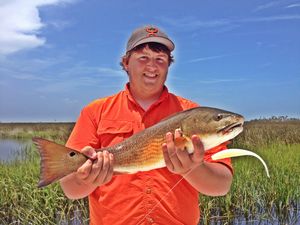 As fun as the scalloping has been and will continue to be this season it's still hard to forget about what makes this area truly so special. How would you like to catch Bull Redfish as the sun comes up, Gag Grouper on some of our scattered shallow water rock piles during the late morning hours and then finish off your day by bagging a few scallops?   Not a bad day and with over 20 different species of fish to offer anglers this time of year the Fishing will not take a back seat to the Scalloping this month. The fantastic fishing found around Crystal River, Homosassa, and Ozello will be on full display over the coming months. With the Redfish, Tripletail, Giant Black Drum, Flounder, Spanish Mackerel, Shark, and Shallow water Grouper Action beginning to heat up the sky is the limit as angling options are concerned.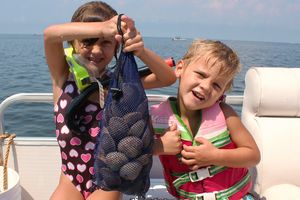 The top species this month will continue to be the Redfish, Black Drum, Mangrove Snapper and Gag Grouper but for anglers looking for a little bit more of a tasty challenge try Flounder Fishing this month. Our local Flounders are called Summer Flounders for a reason and with their peak seasons featured in July through September now is a great time to take the challenge. I call flounder fishing a challenge only due to the fact that it is not necessarily fast and furious action with a major strike. Flounder are very subtle feeders very rarely giving up there hiding spots to chase down a bait. It's their camouflage and element of surprise that makes this fish so challenging. Targeting sandy areas with patchy bottom will provide most anglers with success. Jigging a shrimp or slowly crawling your bait on the bottom will certainly get the attention of any weary Flounder looking for an easy meal. The key to Flounder fishing is once you have located one chances are their will be more in close proximity.