Finally the rainy, windy, and foggy days of January are behind us. Although last month was a very unusual month weather wise the fishing was still fantastic during the days that were fishable. Historically, our New Year winter temperatures hover in low 70's- high 60's. Last month was a little out of the norm but it appears that February is going to make up for it with a number of days already reaching the upper 70's to low 80's. I for one love fishing this time of year. With calm cool mornings giving way to more mild temperatures and lighter winds during the afternoons this is the time of year to be here!!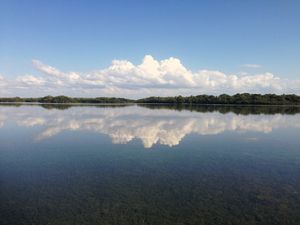 As our weather pattern begins to stabilize this month many anglers will take advantage of some of the best fishing found anywhere in the United States. With over a dozen different species spending their winters here along the Nature Coast now is a great time to enjoy some fantastic Sheepshead, Redfish, Speckled Trout, Spanish Mackerel, Black Drum, Gag Grouper, and Flounder Action. At the moment the Redfish and Speckled Trout action along the Crystal River, Ozello, and Homosassa areas is in Prime Time. The key to targeting these areas is to fish as shallow as possible!! Kayaks, Airboats, and Shallow Drafting Skiffs will see the bulk of the action but anglers waiting for higher tides will have plenty of options over the coming weeks as moon phases become stronger. Targeting areas of muddy bottom in close proximity to deeper areas has yielded the best results. Muddy water tends to heat up faster than surrounding waters making these areas great places to start. The key to being successful this time of year is anchoring your boat immediately once you start catching fish. Reason being is that most inshore game fish are schooling in large schools this time of year. It is not uncommon to catch 50+ Trout or Redfish out of a school this time of year.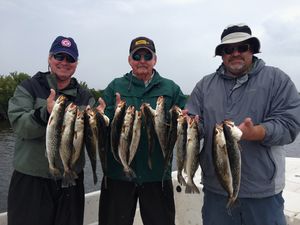 As successful as the Redfish and Speckled Trout action has been the true prize along the Nature Coast continues to be the Sheepshead and Shallow water Grouper action found along our near shore waters. With so many scattered structures along the Nature Coast and so few prime days to target them in recent weeks, many anglers are witnessing incredible catches in 5-8 ft of water. Live Shrimp is the way to go for anglers looking to catch some of the nicest Sheepshead of the year, but for those anglers that are really looking for a hard charging fight think of loading up a live well with a few live Pinfish and watch what happens. These same shallow water locations where we are targeting
Sheepsheads are also loaded with nice Gag Grouper this time of year. Although Gag Grouper season is closed until July both spin and fly anglers looking for a battle this month can find it with these Shallow Water Grouper.
Please remember that Gag Grouper season is closed until July and these fish should not be taken out of the water when being released.