What a great time of year to live in Florida!! With great weather, beautiful sunny days and unbelievable fishing it's no wonder why people are coming from all over the world to enjoy a little fun in the sun here along the Nature Coast. And with over 20 different species homing in on our local waters right now, the sky's the limit as far as options and availability.
Typically this time of year our mornings are spent either stalking Redfish in knee deep water or patrolling the miles of flats off of our shores in search for Giant Tarpon. May and June have always been prime time for these 2 species and it all has to do with the elevated level of visibility and the close proximity in which both can be targeted. And it's ironic that we can fish for these fish almost simultaneously at times. It is nothing to work a beautiful mangrove laden shoreline for tailing Redfish, only to notice a far off push or wake of a Giant Tarpon off in the distance. We are using both spin and fly gear right now for both and with most Redfish ranging from 2-15lbs and the Tarpon coming in at 60-180lbs, Life is Good here along the Nature Coast.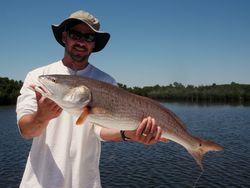 Once our search has been exhausted for the Bull Reds and Silver Kings on the flats lately we have been turning our attention to another great sight fishing opportunity in the Tripletail. With the strong tides of May and June comes the arrival of one of the Nature Coasts most sneaky and tastiest pelagic's. Tripletails are a fantastic challenge to spot and even more of a challenge to catch on light tackle. Normally swimming amongst floating grass or debris, these Tripletail can blend in to look like any type of flotsam. With most Tripletail ranging from 4-15lbs, their hard charging runs and acrobatic jumps makes this one of the most exciting species to target along the Nature Coast.
MAY AND JUNE IS PRIME TIME FOR COBIA FISHING
Cobia are in PRIME TIME during these next two months!! With so many ways to target Cobia and a recent abundance in this species the next 2 months could reveal quite the trophy for a lucky angler. Already this year I have had 3 lucky clients land a 20lb, 30lb and a 50lb BEHMOUTH!!! Sight fishing around Sting Rays, Turtles, Manatees, and Markers has provided us with the best luck but chasing a Cobia down while free swimming on the surface has always provided the most success. While looking for Cobia we tend to pack our rods loaded with either an eel pattern or some type of swim bait. Berkley Gulp! 7" JerkBaits have been absolutely deadly along with any type of live baitfish or crabs.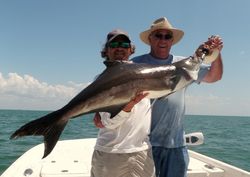 One final note on Cobia fishing. Remember that these fish are as hard of fighting fish as the Nature Coast has to offer. Make sure you are prepared for doing battle with these fish considering most fights average around 30 minutes and can take as long as 2 hours. Light tackle provides my anglers with the most hook ups and because of that this can be considered work, but can also be extremely rewarding.
So if an action packed fishing adventure that will provide you with stories for the rest of the year is what you're after, Give Reel Florida Fishing Charters a call today, we'll get you Hooked Up!!