Fall has finally arrived here along the Nature Coast and although we may not have the change in colors that most of our Northern friends have, there are still plenty of signs that cooler weather is well on the way. For instance our wind and tide patterns tend to change drastically this time of year. Northern and Easterly winds are very prevalent this time of year which offers anglers cooler mornings and fantastic afternoons to fish which is a welcome sign of relief from the more humid Southerly winds that are typical during our summer months. This change in wind patterns along with weaker Spring tides is a great recipe for sight fishing a variety of our local species. Redfish, Speckled Trout, Sheepshead, Flounder, Bonita and Giant Black Drum all will be top targets over the next few months and with the added bonus of slightly weaker tides and copious amounts of bait still inundating the area opportunities to catch all of these species within the same day will occur more frequently during these next few months.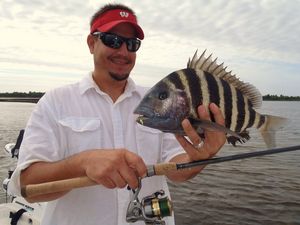 The weaker tides of October and November are historically the best bets when trying to sight fish Redfish, Speckled Trout, and Large Sheepshead in shallow water. The weaker tides allow these fish to forage freely without the added challenge of a strong tide moving their prey throughout the water column. When targeting these bottom feeding species in shallow water I prefer to target structure where a wide variety of opportunities are present. Oyster bars, shallow clear grass flats with potholes, and rocky mangrove laden shore lines are normally sure bets for encountering these great sight fishing species. The fact that these areas hold plenty of prey year round and offer these species a number of different ambush points and escape routes make sight fishing these areas a real challenge.
Sight fishing is by far the most challenging yet rewarding way to target inshore fish species along the Nature Coast. However, it's not the only way to target these inshore game fish. The crystal clear waters of Crystal River and Homosassa provide anglers with many different opportunities to target large inshore game fish. The most popular technique along the area is to use Popping bobbers with Live Shrimp, Gulp! Shrimp or DOA Shrimp. This rig allows anglers to target many different species while covering vast amounts areas. The fact that the bait is constantly in the water is a huge benefit and the added bonus of the popping cork working as a surface lure presents many different opportunities for a variety of species. The most important aspect to consider when working this technique is to make sure the cork splashes rather than drags. If you're able to work a cork all day without a fish putting any teeth marks on it, you didn't work it hard enough.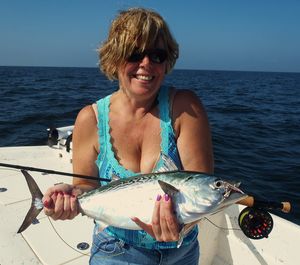 Fall is the time of year that all anglers and guides look forward to the most. Cooler weather, a plethora of fishing opportunities, and the arrival of many migratory species both in the water and out make every day during the fall a special day. With the holiday season right around the corner the gift that keeps on giving are the great days spent with families and friends in the great outdoors. So if you are interested in checking out the best fishing and scenery in the state of Florida look no further than the Crystal River and Homosassa areas otherwise known as the "Nature Coast of Florida."