March is finally here and as we all know that signifies the end of Florida's "so called" winter season. By no means am I fond of cold weather but I can't help wonder: What ever happened to this year's winter in Florida? The City of Crystal River only once recorded a day of frost this season and to my knowledge that has never happened before. The latitude at which Crystal River falls on (28. 91°) normally is ideal for providing a least a dozen days of frost but for some unknown reason "Jack Frost" forgot about the Nature Coast. With the official start to Spring coming up on March 20th local and visiting anglers are wondering what kind of impact all of this warm weather will have on the Nature Coasts local waters and fishing?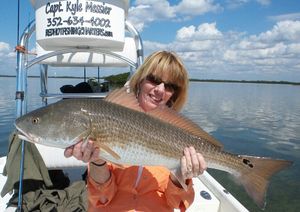 Early indications are pointing towards a very productive Spring season for Cobia, Bluefish, Tripletail and Spanish Mackerel. These four species normally highlight the pinnacle of our Spring season which in years past has occurred during the later part of April but the steady warming trend that began all the way back in January has the Nature Coasts water temperatures already closing in on that magical 68°-70° which is sought after by many pelagics. This early warming trend has also been a catalyst for the early congregations of large schools of threadfin herring, pinfish, and glass minnows. As these large bait pods grow in size many pelagic species especially Spanish Mackerel will seek out areas where these baits congregate. Areas of current and structure such as channel markers, rock piles and wrecks are great areas to target this time of year as they can easily hold a variety of hungry pelagic species.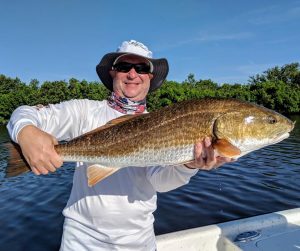 Another species that is not necessarily new to the Nature Coast but has made its presence felt during the warmer than normal winter is the Permit. Permit are often considered one of the three Holy Grail species to flats and fly fishermen. As the most prestigious member of the Jack family Permit are built for speed. A retractable dorsal fin and fork tail make this the perfect fish to test the line capacity limits of any spinning or fly reel. Here along the Nature Coast we target this finicky fish using Live Shrimp, Small Rock Crabs, and even Berkley Gulp! Shrimp. Permit have very large eyes and are keen on picking up the most choice shrimp or crab making bait selections and placement critical. Chumming on structures such as oyster bars, sand bars and even wrecks can yield great results as long as they are present.
TIP FOR PERMIT:  
Keep your eyes open on the water. If Permit are present on a particular structure the dark black portions of their fins will show really well in the crystal clear waters where they roam. Oyster bars are prime locations to target because there is such an abundance of prey. Remember to match the Hatch. Most Nature Coast Permit prefer smaller baits 3" or smaller.
HOT BITE:
For those anglers that are looking for consistent fishing action look no further than targeting Speckled Trout this month. Speckled Trout are by far one of Florida's most sought after fish species mainly because of their abundance and great table fare. Here along the Nature Coast Speckled Trout are typically found inshore and nearshore around seagrass beds, oysterbars, and mangrove-fringed shorelines. Free-lining live shrimp, small pinfish or pigfish (grunts) near the bottom will normally entice a hungry Trout out of their grass-bed holes. Often attaching a float to these same baits will allow these baits to drift over the grass beds as you search for Trout. Casting soft-bodied jigs, top-water poppers and spoons can also be effective. Trout are very delicate, so returning unwanted or undersized fish promptly to the water is necessary to maintain a healthy population.