Spring has finally sprung here along the Nature Coast and most visiting anglers have enjoyed some of the most comfortable winter temperatures on record here locally. Our spring like pattern actually began in early February and this unexpected warming trend has led to some truly incredible catches for this early time of year. Giant Black Drum, Spanish Mackerel, Gag Grouper and Pompano all of which are more prevalent from late March into early April have been targeted since early February due to this warming trend. Over the last 4 years our winters have usually stretched well into early May but this year we have experienced so much sunshine and warm weather that our local water temperatures are already hovering around the magical 68 degree mark. This warmer than usual water temperature means that a variety of pelagic and other exotic species will be showing up early here along the Nature Coast this season.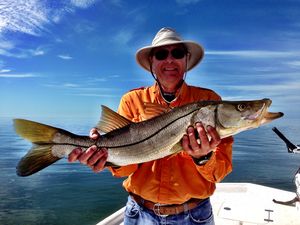 One of the most highly anticipated arrivals of our Spring fishing season is when pelagics such as Cobia, Sharks, Tripletail, Tarpon, Spanish Mackerel and Permit all show up on our local flats to feed. This is a special event that local and visiting anglers from all over the world look forward to each year. As these hungry fish finish their winter migrations and move onto our local flats to feed anglers will notice a variety of changes coming soon. Large Schools of bait balls are beginning to swell at the mouths of both the Crystal River and Homosassa Rivers. These bait balls will be met by a variety of diving birds, dolphins and of course hungry fish. Targeting large areas holding bait balls and diving birds is a sure sign that anglers are fishing a prime area. Typically Spanish Mackerel will be the first species anglers will notice as they cut and slash through these bait pods. Having casting spoons and jigs rigged with a small piece of tieable wire will lead to a ton of hook ups and drag screaming runs.
Speaking of drag screaming runs, for those anglers that are looking for an incredible fight think about Snook fishing the Nature Coast this time of year. Snook are the true wild card species of the Nature Coast. 10 years ago catching a Snook in Crystal River or Homosassa would have got your picture in our local newspaper. These days Snook are not as much of a rarity as they once were. Local anglers love targeting Snook using a variety of lures including Twitchbaits, Jerkbaits, and Topwater Lures. Targeting rocky shorelines with current, deeper holes in our rivers and of course lighted docks are a sure fire way to land some of the largest "Linesiders" north of Tampa Bay.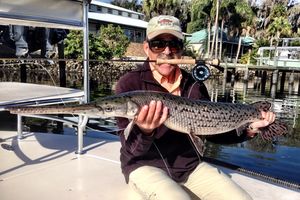 With so much great action going on along our nearshore waters and backcountry flats many anglers overlook our 7 river systems along the Nature Coast. Of the 7 rivers that are scattered across the Nature coast the Crystal River, Homosassa, Salt River, Halls River are all excellent areas to target a variety of both fresh and salt water species. The recent warming trend has led to many snook, redfish, and tarpon intermingling with more freshwater prevalent species such as largemouth bass, bluegill, brown bullhead catfish, and a variety of gars. Having so many available species in a small area has made this the go to place for fly anglers. Casting size 1 Clouser Minnows, EP Baitfish, and Gurglers has been a fun way to get the attention of all of these desirable species. When fishing our rivers this month keep an eye out for rolling Gars. This is the time of year when Longnose Gar seek out areas to spawn. Targeting Gar on fly is fast becoming a popular adventure and considering that these fish are available year round and can reach lengths of up to 5ft long, this makes for a great challenge on a 9wt.
With so much great weather and fantastic fishing opportunities available right now this is a perfect time to plan a future fishing adventure with Reel Florida Fishing Charters.