March has always been a month Nature Coast anglers look forward to as it symbolizes the beginning of our Spring Season. Spring is highlighted as a time of year when many migratory birds start making their trips back north but it's also a time to look to the water as many fish species begin returning to the bountiful feeding grounds found along the inshore waters of Crystal River and Homosassa. Local anglers will start to notice that most of the flats and mangrove shorelines that have been deprived of life during the winter will now find a plethora of jumping mullet along with schools of Pinfish, Pigfish, Crabs, Mudd Minnows, and Shrimp. All of these species make great prey for a variety of game fish including Redfish, Speckled Trout, Black Drum, Spanish Mackerel, Cobia, Tripletail, Pompano, and Flounder. The best aspect of this month is that all of these species tend show up at once. One day it will be a few Mackerel and a Cobia sighting and then the next day dozens of Macks will be skyrocketing at a time along with dozens of Cobia ready to chomp on what ever swims by. Nature Coast Anglers just need to gear up and be ready for everything.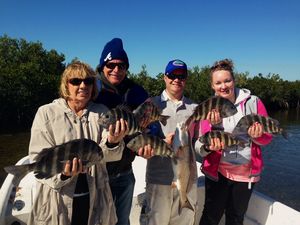 At the moment most Nature Coast anglers are looking ahead to the stabilizing weekly weather patterns that will finally stabilize over the next few weeks. With stabilizing weather comes pattern changes and no pattern will change more over the next few weeks than the Sheepshead fishing. With the recent warming trend driving in many Grouper, Snapper, Spanish Mackerel and Sea Bass to the many structures that were holding Sheepshead anglers will now find that the competition along many of these same structures will be fierce. Although this doesn't bode well for Sheepshead or anglers interested in pursuing them, this will however be very favorable for all anglers looking for bites. The same rocky structures that we have been targeting for the last few months will now have to be approached differently in anticipation of the added species. Larger rods for Grouper and Cobia and rods rigged with wire are a must for the Spanish Mackerel. With many of these rocks becoming inundated with a variety of baitfish including sardines, pilchards, and glass minnow's, lures and baits that resemble these baitfish will provide anglers with the greatest chances for success.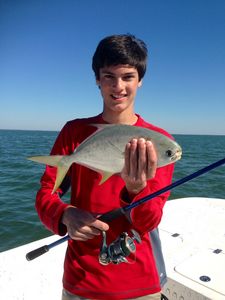 For anglers looking for a little more of a challenge targeting Pompano this time of year is a sure fire way to make your drag scream. Pompano are one of the more commercially sought after game fish and make some of the best Ceviche on the planet. They key when targeting Pompano this time of year is to run your boat along any form of sandy areas or light shell beds and look for these fish to skip along the side of the boat wake. If there are Pompano any where around these structures you will visually see these fish shoot out of the water almost like a scared mullet. Once you have found an area holding Pompano all it takes is an 1/8 oz jig and a shrimp tail and it's game on. Keep in mind that many of these same areas that hold Pompano this time of year could also hold a Permit or two.
So with great weather and fishing right on our door step why not think of adding a Florida Fishing Adventure to your next vacation game plan? Remember our 2014 SCALLOP SEASON is right around the corner!!!!