Welcome to sunny and HOT Florida folks!!! It seems like every July I get asked the same question by traveling anglers visiting the area (and often Florida) for the first time during the summer: "How do you handle the heat during the summer time?" My answer is almost always the same: "I fish early and often and when you're catching fish you never feel the heat."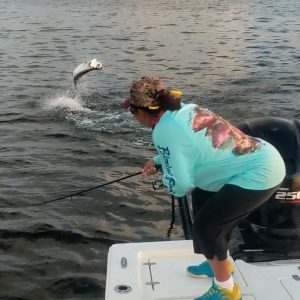 These days our guided fishing trips are leaving the dock at 6:00 a.m. to catch the sunrise and the most active bite of the day. The sunrise bite for Tarpon has been on FIRE in recent weeks but those early morning eats' will become fewer and far between as the stronger tides of the new moon pass. The major tides that coincide with the new moon are what jumpstarts the remaining migratory Tarpon in our area. Lucky Tarpon anglers that are stalking the western most mangrove islands in both Crystal River and Yankeetown will find the best luck hooking up with migratory Tarpon as they swim northward. Although there will be fewer Tarpon in numbers often they will be swimming in extremely shallow waters this time of year to avoid detection from hungry sharks. It's always comical when you hear the story of the guy that was fishing for redfish and accidently hooked up on a Tarpon that screamed off with all of their line. I love those stories.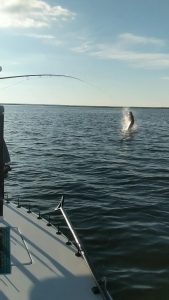 Although most of our migratory Tarpon will be long gone in the coming weeks there will still be some great opportunities to target smaller resident fish in the 20-40lb ranges on light tackle. Smaller fish are honestly my favorite as they can be extremely acrobatic to say the least. After all, the best part of hooking up with a Tarpon is watching the jumps. Anglers casting DOA baitbusters and 7" Hogies along the mouths of both the Crystal River and Homosassa will put themselves in the game, but as you can imagine a few hidden honey holes can be loaded with fish and its around these honey holes where the best Tarpon action will be found.
HOOK UP AND HOLD ON!!!!!!
_________________________________________________________________________________________________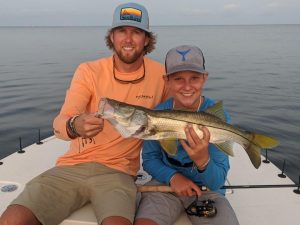 As the last few migratory Tarpon say "sayonara" to the Nature Coast what will Nature Coast anglers have look forward to as we roll into the dog days of summer?
Yes its hot outside but so is the fishing. The good news is that both Redfish and Snook, two of our most prevalent summer species don't care a lick about the water temps and extreme heat. In fact Redfish and Snook thrive during the summer months here along the Nature Coast as the abundance of baitfish triggers consistent daily feeding patterns.