Independence Day has came and went with a BANG! along the Nature Coast and what it has left behind is some incredible catches and a number of opportunities to look forward to as the summer season continues. July 1st marked the opening of two of the most anticipated seasons of the year. Gag Grouper and Scallop Season both opened up on July 1st and although the weather made the opening week of these seasons a little challenging great catches were found throughout the Crystal River and Homosassa waters.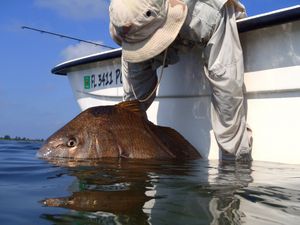 Gag Grouper are normally associated with deeper water hangouts along the Gulf Coast but the area surrounding the Nature Coast is home to THOUSANDS of shallow water rocks, wrecks, and reefs which makes the perfect habitat to hold a steady population of shallow water Grouper. Although the water depths may be shallow local anglers can not deny that there are still plenty of large fish roaming the local shallows. Fish up to 20 lbs have been landed on my boat fishing for shallow water Grouper and there is really nothing more exciting than watching a Grouper sky rocket out of the water after a Topwater Plug or even a Surface Fly. Although surface plugs and flies are used only in certain situations, casting lipped plugs and throwing live baits will yield the best results and provide anglers with the rod bending fight that Grouper fishermen/woman are accustomed to.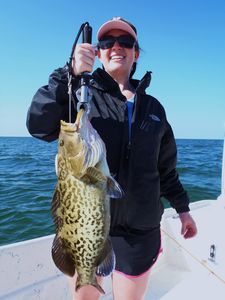 It may sound to good to be true but most of the best Scalloping Grounds are located just a stones throw away from our local shallow water Grouper fishing grounds. That's right Gag Grouper fishing in the morning and Scalloping in the afternoon is a great option this time of year for the Nature Coast Angler. The early Scallop Season strategy is to position your boat adjacent to some type of coral or sponge flat. This strategy makes for a very appealing snorkel as you will find tons of fish, crabs, sponges and corals all with in a short swim. Scallops like these areas because as they move with the wind and tides they tend to congregate along many of the grassy edges surrounding these flats. The key to harvesting Scallops is to keep your eyes open. Chances are where you find one Scallop there are probably a hand full more all within the same general area. With most of our early season Scalloping being found in water less than 4ft, this is a great activity the whole family can enjoy.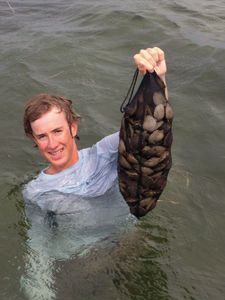 Keep in mind the Nature Coast is still featuring some incredible catches of Giant Black Drum this summer. Most of the Black Drum are being found tailing in less than a few feet of water and with most fish averaging 20-60lbs this has been and will continue to be a top target this summer. Throwing shrimp and crabs will yield the most success but targeting these large fish on fly will surely get the blood boiling. Shrimp and Crab patterns are a must and flies tied with naturally swimming materials will help add to an angler's success. My personal selection consists of dark colored flies (black, olive, purple, burnt oranges) tied with marabou, rabbit, arctic fox, or craft fur. The best presentation when targeting Black Drum on fly is to literally hit them on the head and begin a slow methodical strip at their eye level. Vary your retrieves if necessary and hold on!!! These fish are big and love to pull!!
Call or email Reel Florida Fishing Charters to book your next inshore fishing/scalloping adventure!