It's the time of year along the Nature Coast where the weather has finally turned unbearably hot and sticky, yet our focus is still set on bending a rod no matter the circumstances. Although our local temperatures have been hovering in low 90's lately, savvy anglers including my self have found it extremely beneficial to fish the early morning hours from 6:30-10:30 a.m. in order to beat the heat. Low light conditions make sight fishing for some species a little challenging but the shear enjoyment of watching the sun rise while not sweating to death more than makes up for the lack of visibility.
The summer in Florida (although hot) is still a great time of year to target Redfish, Snook, and juvenile Tarpon on fly, and the latter is one of my favorites because they aggressively take flies and are as acrobatic as a U.S. gymnast. Years ago when I first started targeting Tarpon I had no interest in targeting juveniles as my dreams were focused on only catching large migratory Tarpon. I know! I know! A Tarpon is a Tarpon but in my mind a Tarpon was a fish that was suppose to make you shake with excitement and sweat with enjoyment. I wanted to feel the pain of doing battle with a fish for an hour. Looking back on that philosophy "What the hell was I thinking?"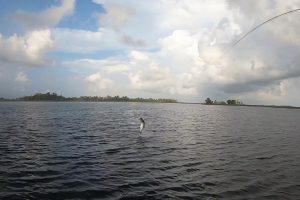 Summer time juvenile Tarpon are nothing like the "World Record" sized behemoths that we target in May and June but they still jump and pull hard on 8wt's. The best part of targeting juveniles during the summer is usually they are extremely aggressive. They like the fly stripped hard and fast and often compete with each other, by racing to the fly. Most juvenile Tarpon move and hunt in packs like schools of Redfish and a lot of times they will explode violently on a fly dropped right on their nose. These junior Silver Kings have the same attitudes as the BIG Dawgs and are a blast to watch eat a fly.
Locating and Feeding Juvenile Tarpon:
During early calm mornings anglers can locate juvenile Tarpon rolling along channel drop offs and shallow turtle grass flats. Tarpon roll to inhale oxygen, so it's important that there is no wind to help oxygenate the water. The early morning hours are usually best for spotting "Rollers" as most Tarpon do not need to roll when the sun is high because turtle grasses start producing oxygen at that point.
Once fish have been located its important to act fast. Because the only visual that anglers have is the fish actually rolling its important to put the fly in the general vicinity of the Tarpons' travel pattern ASAP. My preferred fly selection includes small Tarpon Toads, Black Clouser Minnows and my particular favorite a white and silver Murdich Minnow (hand tied by Russ Kucinski). Fly lines such as Rio's Flats Pro with its stealth tip are ideal. These lines come with either a 5' or 15' foot clear sinking tip that will put a fly in the strike zone fast.
WHEN HANDLING JUVENILE TARPON, PLEASE HANDLE THEM WITH CARE. ALL TARPON SHOULD BE RETURNED TO THE WATER QUICKLY TO ENSURE THEIR SURVIVAL.