Life is Good here along the Nature Coast of Florida as the windy days of March are long gone and the sunny beautiful days of April are on the horizon. Over the last couple of weeks the Gulf Coast waters have been mired with windy yet gorgeous weather. Although this may sound like an interesting weather combination the southerly breezes actually have helped jump start the push of many migratory species swimming northward. Each week our local area flats are starting to see new visitors. From Bluefish to King Mackerel, to Cobia and Sharks each week is bringing in new species and new adventures.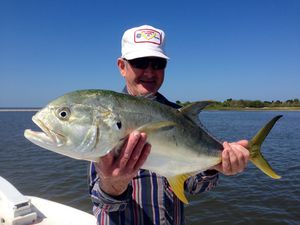 With all of this new Action coming in to the area Anglers should continue to be ready for all fishing situations. Now is the time that all Nature Coast Anglers should be homing in on diving birds, dolphins and Huge Bait Balls. We typically find large swimming pool sized bait balls around deep areas with lots of current. Bait balls mostly made up of threadfin herring and glass minnows are staging in areas that have lots of current where they can feed. As these huge schools of bait fish congregate so do many of the predatory fish that feed on these baitfish. Spanish Mackerel, Jack Crevalle, Bluefish, Bonita, and even Kingfish have been seen and hooked fishing these bait balls. I for one love to target these massive feeding schools of fish using light tackle and fly gear. For newbie's interested in learning how to fly fish, now is the time to dive right in. Multiple species, drag screaming action, and tons of shots at fish will surely jump start your fly fishing addiction.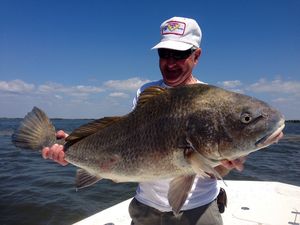 For those anglers that still have the itch to get in on some of the best skinny water sight fishing action found anywhere in the state of Florida, the Nature Coast is still boasting fantastic shallow water action for Redfish and Black Drum. Although both of these fish are in the same family and can be targeted in similar areas, successful strategies for targeting both can be a little complex at times. Redfish (Red Drum) tend to be more aggressive as they mature in size. Successful techniques include throwing a variety of retrieved lures, live baits and flys. In most cases when a Redfish homes in on a bait or lure it will aggressively strike at its prey. Black Drum on the other hand tend to be slow methodical feeders. Typically these fish do not want to have to stray to far away from their feeding zone to track down a bait. Because successful techniques for Black Drum often involve a "Bait & Wait" approach, many anglers often tend to catch these fish on accident.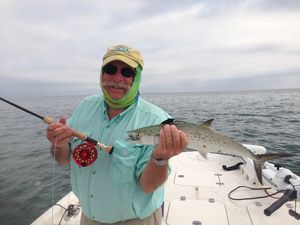 Successful game plans for targeting both Redfish and Black Drum in similar areas should involve 3 main strategies: Target areas with structure, moving water, and prevalent sources of food. Most often the most successful structures are oyster bars, rocky flats, and spoil islands. Once a promising structure is found often you will find bait fish immediately. Jumping Mullet are always a great indicator and if the area also holds mud minnows, crabs, oysters, and pinfish you really are in business. And as far as the moving water aspect is concerned if you have tidal movement you have moving water. Successful anglers will find out this month that if you combine all three of these strategies into a game plan great fishing days will happen.