With the school year finally out and the warm days of May leading us into our Summer season, there are a ton of Inshore options to look forward to during the next few months along the Nature Coast. The final push of migratory Tarpon along the flats of Homosassa and Crystal River will definitely be the highlight this month, but with Awesome Redfish and Shark action all within the same flats a true world class fishing experience is possible everyday during a visit to our local flats.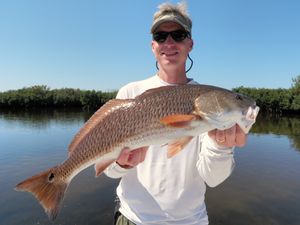 With one of the best Tarpon seasons over the past decade occurring as we speak, anglers from all over the world are trying their best to put an exclamation point on what has already been an extremely successful Tarpon season. Since the beginning of Tarpon season in late April we have continued to see record numbers of fish while fishing the flats stretching from Homosassa to Crystal River. With a majority of our fish exceeding 100lbs and with schools of fish ranging from 10-50 fish being spotted numerously throughout a day, this action will definitely provide anglers with lasting memories to hold them over till next season. Both spinning and fly gear have been getting a workout but with our area known as the Tarpon Mecca of Fly Fishing most of the best catches have come from anglers slinging bugs for these Prehistoric Bruisers.
IF YOU'RE INTERESTED IN BOOKING FOR THE 2013 TARPON SEASON WE STILL HAVE A LIMITED AMOUNT OF DAYS LEFT AVAILABLE. PLEASE CALL FOR MORE INFORMATION ON NEXT YEARS TARPON SEASON.
Although the Tarpon fishing will still be the major draw this month, there are still plenty of other Awesome inshore opportunities for some of Florida's finest inshore species here along the Nature Coast. Redfish and Sharks are also swarming the same areas as the Tarpon and opportunities to catch all 3 species with in a day can occur on any giving day. Without a doubt the Redfishing along the shallows will be another major draw this month especially with the added clarity of the already gin clear water, but for something a little different this month it's also a great time of year for sight fishing for sharks amongst the Tarpon and Redfish.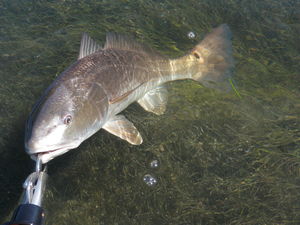 Most of the Sharks we are targeting right now are roaming the extreme shallow flats on low water searching for anything and everything to eat. With a Sharks fins out of the water and teeth exposed this makes for a true heart pounding angling adventure (or at worst a JAWS moment). Most of the Sharks patrolling the local flats range from 3-5ft long but with numerous Tiger Sharks and Bull Sharks ranging well over 8ft long (including a Tiger Shark well over 10ft long) roaming the same flats you never know what size or species of Shark you will encounter throughout a day. Keep in mind that these larger Sharks are following schools of Tarpon waiting for an injured Tarpon to show themselves. Other than catching a Tarpon on fly nothing is more exciting in the world of Shallow water fishing than throwing a large piece of cut bait into the path of a very large and powerful Shark. This is a battle that surely will not be forgotten.
As great as the Fishing will be over the next few months another major draw to the Nature Coast will be the arrival of Scallop Season on July 1st. Long known as an "Adult Easter Egg Hunt" snorkelers from all over Florida will make the trek to our crystal clear local waters in search of these tasty mollusks. This is truly a family fun event and we encourage everyone to come out and give it a try.