Wow! What a difference a month can make. Its hard to believe that January provided Florida with one of the coldest winters in a decade only to have February arrive and usher in record high temperatures almost every day so far this month. Historically February is one of those months that can be brutally cold by Florida standards or extremely comfortable, you just never know what you're going to get. But 3 straight weeks of 80° weather has even the eldest Floridians scratching their heads. So what does all of this Chamber of Commerce weather mean for Nature Coast anglers?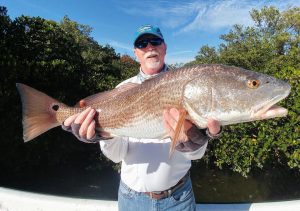 Here's the bad news: Our winter fishing pattern is over after just one month.
Here's the AWESOME news: Our winter fishing pattern is over after just one month! January's anglers visiting Crystal River and Homosassa had been basically confined to fishing only the spring fed rivers because a majority of our game fish entered these 72° year round rivers to get a reprieve from the extremely low Gulf water temperatures. This mass congregation of fish made finding fish fairly easy but the competition from other anglers, dolphins, cormorants and the manatee tour boats made this style of fishing very unpopular.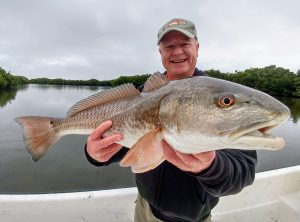 Now that our local water temperatures have hit that magical 70° mark (which I personally have never seen before in February) the flood gates have opened up and fish that anglers normally would expect to see in April and May have arrived extremely early and are hungrier than hell to eat what ever is put in front of their faces. Speckled Trout, Gag Grouper, Black Drum, Sharks, Spanish Mackerel, Tripletail, Bluefish, Jack Crevalle, Pompano and even Permit are just a few of the early arrivers. With so many infrequent fish arriving early to the area one way to take advantage of all of these species is to fish popular structures using baits that are desirable for multiple species. Fishing live shrimp around oyster bars and mangrove laden shorelines will surely lead to success catching Redfish, Speckled Trout, and Snook but for those anglers looking for consistent action Crystal River's Spoil Islands and Homosassa's foul area are loading up with a number of these different species that are sure to put a bend in a rod.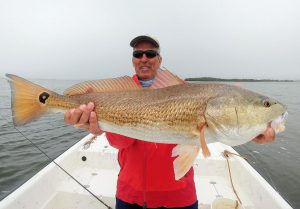 HOT BITE: The backcountry Redfish action normally is very productive this time of year but the added warmer weather has led to some of the best winter Redfish catches in years. Warmer weather usually drives Redfish into an eating early and often pattern, meaning that instead of eating one very large meal that can hold them over for a period of time (winter eating pattern) now these fish are eating smaller meals more frequently. Because these fish are eating regularly now, smaller prey is consumed more often. Small Shrimp, Crabs, and Baitfish are all warm weather prey for Redfish so live baits and artificial lures should be matched accordingly. Live Shrimp, Mud Minnows, and small Pinfish will be the top live baits. While artificial lures such as Gold Spoons, DOA Shrimp, Berkley GULP!, and Mirrolure Lil Jon's and Mirrodines will be choice for those anglers looking to consistently cast and retrieve.