As to be expected this month our weather has finally stabilized to the point where we can now bank on a typical weather day here along the Nature Coast. Calm cool mornings will now begin giving way to the heat of the day and along with that added warmer weather comes those Oh! so familiar afternoon rain showers. These afternoon rain showers have actually been great catalysts to jump start a bite, especially when fishing for fish that tend to look up to feed. Most fish with a hooked jaw tend to feed looking upwards. Species such as Speckled Trout, Tripletail, Snook, and Tarpon all feed primarily on prey that rides within their line of sight or just above. The added cloud cover of these afternoon storms really allows most fish to home in on their prey as they will not have to look up into that strong Florida Sun.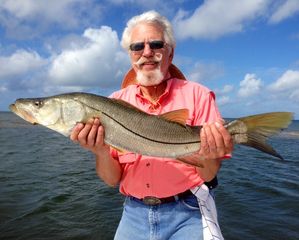 For the next coming months the ideal time frame for targeting many of the Nature Coasts most sought after game fish will come during the early morning hours or towards the afternoon hours as storm clouds begin to build. The staple species over the coming month will definitely be the Redfish, but as the warming trend in Florida continues species such as Tripletail, Snook, and Tarpon are going to be hard to pass up.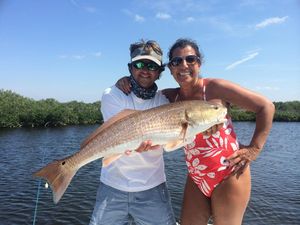 Speaking of Tarpon, our Tarpon Season has finally hit its stride up and down the Nature Coast.  Believe it or not the waters off the Nature Coast have long been considered a top tier fly fishing destination for anglers looking for some of the largest Tarpon found any where in the world. The flats from Bay Port to Crystal River have yielded many fly fishing world records over the years including the 3 largest Tarpon ever caught on fly. At 192lbs, 198lbs, and 202lbs it's no wonder why anglers from all over the world will flock to our local waters over the next coming weeks.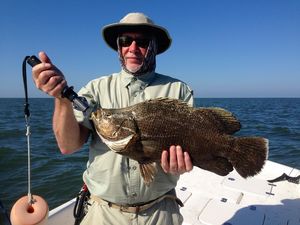 Although Fly fishermen will find most of the success during the season, savvy spin fishing anglers that are looking to get in on the action only need a few baits and rigs to be successful in this game. Live Crabs, Pinfish, and Large Hogy Jerkbaits tend to be the top baits of choice. The key to fishing success both with spin and fly is to present your lures/flys with the most natural presentation possible. Plopping a large bait on a Poons head will surely spook these weary fish, and to long of a cast most likely will keep you out of the strike zone.
So with so much great action on the horizon it's time to start thinking of adding a Reel Florida Fishing Charter to your next vacation plans.