Hello Spring! It has been way to long. Finally it looks as if the cold, wet and windy weather of our winter season has left us. With a rapid warming trend in our forecast Nature Coast Anglers can now rejoice, as fishing looks to get back to normal on our local waters. The lack of rapid fluctuations in temperature and weather patterns will mean anglers can once again begin exploring our local area waters in search of a variety of species that will be arriving shortly.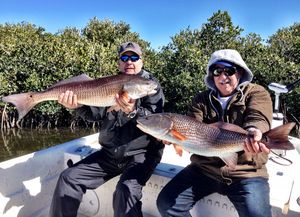 Over the last two months the staple species of the area were made up mostly of Redfish, Speckled Trout, Sheepshead, and Mangrove Snapper. With the added benefit of warmer weather local anglers will notice large schools of baitfish moving back on to the grass flats. Although most of these bait fish will be needlefish, pinfish, and threadfin herring we are only a short time away from the massive schools of glass minnows arriving on to our local flats. When conditions are right (and that appears to be immanent) and all of these baitfish congregate on the same flats and a variety of pelagics will be ready to pounce considering that their food sources have been limited due to the weather months. Cobia, Sharks, Tripletail, Spanish Mackerel, and even King Mackerel are not far behind and I for one will be looking forward to the fast paced fishing of running and gunning from feeding frenzy to feeding frenzy.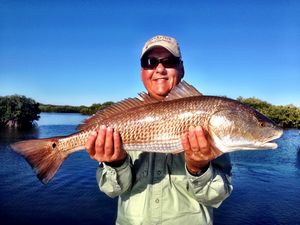 Until the feeding frenzies finally arrive in a few weeks to a month Nature Coast anglers can still look forward to some of the best shallow water Redfishing found anywhere in Florida. Although the abundance of rain and wind have made sight fishing conditions less than stellar, blind casting live shrimp, Gulp! Shrimp and Mirrolure Little Jon's has been a blast during most of the higher high tides. Targeting areas of exposed limestone holding large mullet has yielded the best results. Anglers must keep in mind that most Redfish will be following these schools of mullet this time of year due to their relentless feeding habits. As mullet feed they tend to stir up the bottom causing many shrimp and crabs to flee their hideouts. Redfish do not like to work for their food so they use the mullet to do the dirty work while they reap the benefits.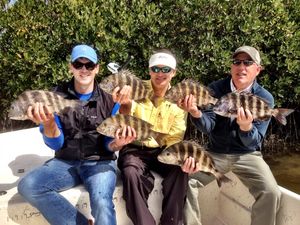 * Hot Bite: Anglers looking for consistent action this time of year need to look no further than our local grass flats in pursuit of Florida most sought after fish species the Speckled Trout. Most of our local Trout have been forced to stage just offshore or in our local rivers where prey can be scarce at best. As our warming trend continues anglers will notice an abundance of Trout will be arriving any day to feed like crazy. Long drifts over grassy or patchy bottom will offer anglers the best chance for success and throwing and retrieving lures such as DOA Shrimp, Mirrolure Mirrodines, and Unfair Lures Rip & Slash will easily pick off the larger Speckled Trout Roaming the flats.