As I begin working on my own vacation plans for my upcoming January vacation I can't help but think of how lucky I am to be able to call the Nature Coast of Florida my home. It's really hard to imagine a better place to visit this time of year than Crystal River or Homosassa. Don't get me wrong I have visited a ton of beautiful and fishy places over the years but I keep thinking to myself where else can you find a unique manatee snorkeling destination, a 31,000 acre wild life and bird sanctuary, and some of the best fishing in the world all in one area? It's at that point that I realize why outdoor enthusiast from all over the World come to visit the Nature Coast this time of year. Great weather and a ton of outdoor adventures await many lucky visitors.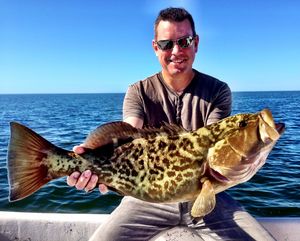 It's not very often that the incredible fishing of the Nature Coast takes a back seat to any other outdoor event, but this time of year most visitors of the area will be hear to swim with our annual "World Famous" Manatee population. The early counts of this past week put close to 522 Manatees in our local waters and with cooler weather on the horizon more and more of these gentle giants will be making their pilgrimage into the many Springs that can be found throughout our river systems. With the Homosassa and Crystal Rivers being the only 2 destinations in the continental United States that offer Manatee snorkeling experiences like this its no wonder why so many people from all over the world make their trip to the Nature Coast each year.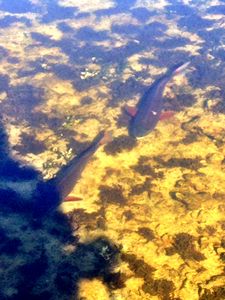 Although many snorkelers will be hitting the water over the coming weeks to swim with the Manatees those adventure seekers that are interested in finding some of the best salt water fishing action found anywhere in Florida will happily find out that the waters stretching from Yankeetown to Homosassa will be loaded with great inshore fishing opportunities for Redfish, Speckled Trout, Sheepshead, Black Drum, Flounder, Snapper, Pompano and even Permit. Our rivers 72 degree year round temperatures help to create a unique habit that helps to hold such a diverse population of fish species. The key to fishing this time of year is to be ready for any and all situations. It's not unheard of to be working a shallow oyster bar for tailing Redfish only to have a school of Permit come in and crash the party. Using versatile rigs and a variety of live baits will get the most action. WHEN IN DOUBT GO TO LIVE SHRIMP!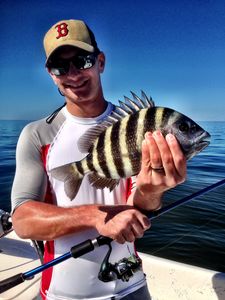 Best Bet: The best bet for catching during the month of December is going to be targeting Sheepshead around many of the structures scattered across the Nature Coast. Springs, Docks, Bridges, Oyster bars, and Rocky Shorelines will be great areas for targeting these constant nibblers. Chumming with live shrimp and crabs will see some of the best results but if anglers are interested in landing some monster "jail birds" think of using large fiddler crabs when accessible. Keep in mind that these fish are in their spawning phase and should be conservatively harvested.
*CHRISTMAS IS RIGHT AROUND THE CORNER. REEL FLORIDA FISHING CHARTERS GIFT CERTIFICATES ARE GREAT GIFTS THAT KEEP ON GIVING!!!