Well what can we say about the weather, that has not already been said?  The only constant with the Nature Coast Weather these days it it's inconsistencies.  Two days of rain followed by 3 days of sun is great as long as it's predictable. The days of afternoon thunderstorms are long gone as the first true cold front of the fall season made it's presence felt earlier this month. With more unpredictable weather on the horizon the one great constant Nature Coast Anglers can look forward to is the world class fishing that our area will feature as the fall season really sets in.
Over the last few weeks fishing for up to 20 different species has been our featured strategy here in Crystal River. When the Mackerel Action is great we target them and are rewarded with other species including  Jack Crevalle, Bonito, Bluefish and Speckled Trout. When the Action on some of our shallow rocks, wrecks, and reefs is hot we target Snapper, Grouper, Flounder, Seabass, and Cobia. The fishing action will only continue to impress as water temperatures begin to cool off and more and more fish invade the area to feed before our short winter season.
The highlighted species from Crystal River to Homosassa will continue to be the Redfish. Shallower Waters and huge schools of fish will lead to some incredible catches over the next couple of months.  With some schools of fish reaching into the triple digits this is a great opportunity target these Bronze Bruisers on a fly. During a recent outing with Art Mowery visiting from Gainesville, FL, he and I were spoiled with a Redfish Bite that can only be described as EPIC!  Our early morning action found us sight fishing with Mirrolure Lil Jon's and live shrimp to hungry Redfish staging on the edges of many of our beautiful Spartina Grass Shorelines during a flooded full moon tide. In total we landed 9 nice Redfish during our morning bite with all of these fish pushing well within the slot or just over. As great as this early AM bite was during the flood tide, the late PM outgoing tide found us thick in a school of hundreds of Redfish.  After landing 10-12 more reds on spinning gear we switched over to the fly and once again were rewarded with double digit landings. To say the least this was one of many epic days that we featured here along the Nature Coast in recent weeks.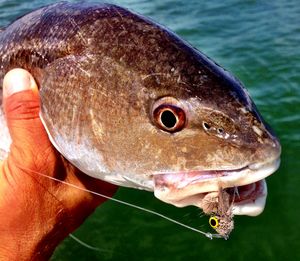 With all of this great inshore fishing action one can easily forget that the best scalloping of the year is still going on here along our local waters. Mixing in some scalloping to your day after an incredible morning of Redfishing is a great way to enjoy the best of the Nature Coast. Just ask Troy, Max and Justin from Celebration, FL.