With most of the country locked into a stifling heat wave, here along the Nature Coast we are being spoiled with Extremely Hot Fishing Action to go along with our beautiful summer weather. Although most of our daily temps are in the upper 80's to low 90's we are still able to combat the heat in many different ways. I for one love early mornings and there is no better bonus to an early morning start than watching the sun rise over our beautiful mangrove shorelines. Plus keep in mind that during this time of year most of the best fishing action occurs during the early morning hours due to the lack of fishing pressure and afternoon heat.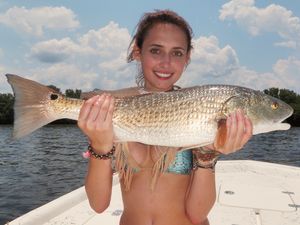 With many inshore and offshore species looking for more consistent water temperatures to beat the heat this time of year, myself and most of my anglers have been pursuing more temperature tolerant species including Redfish, Snapper, Snook, Flounder, Sharks, and even Grouper during our recent trips. This time of year the Redfishing along the Crystal River and Homosassa areas are a sure bet for any anglers searching for drag screaming battles with one of Florida's most popular game fish. The typical pattern for this time of year is to stalk these fish in extremely shallow water using spinning outfits that can handle making extremely long casts with artificial lures or cutbaits. Considering that most of the fish we pursue this time year are on the larger end of the slot or over, I have found it very important to feed these Big Fish Big Baits. Larger Spoons, Topwater Lures, Jerkbaits, Cut Mullet, and Live Pinfish are all useful baits during this time of year.
If you're interested in fishing for Redfish a little differently than the traditional spot and stalk technique that we normally employ throughout the year, think about planning a trip during a "flood" tide period. "Flood" tide conditions occur around the full and new moons of the summer months and it's during these tidal phases that we are required to get a little KAMAKAZEE when trying to pursue these sneaky fish. Casting over mangrove islands into little pools, pulling our boat through narrow and tight creeks, and even getting out of the boat to walk to landlocked saltwater ponds are just a few of the interesting methods we use when employing the KAMAKAZZE technique to land some of the biggest Redfish found any where along the Nature Coast. As crazy as this technique may seem, the rewards of the cast and the catch are ones that are never forgotten.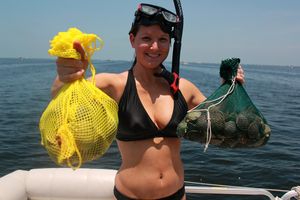 An excellent option that we have this time of year to beat the heat is our scallop season. These tasty mollusks are found along many of the same crystal clear flats where we spent most of our day's Speckled Trout fishing. The "Adult Easter Egg Hunt" as it's called by most locals only requires a Mask, Snorkel, and Fins and when that afternoon heat wave kicks in there is nothing like jumping into to Mother Nature's aquarium to harvest our local Bay Scallops. With our Scallop Season open from July 1st– September 24th there is plenty of time to schedule a Nature Coast adventure both in and out of the water.
For information on a Fishing, Scalloping or Fishing/Scalloping trip please feel free to contact Reel Florida Fishing Charters today.