The time has arrived when Florida weather has finally become mortal. The weather around Christmas and New Years was a true gift with some of our daily temperatures featuring 80 degree days. Those 80 degree days are probably long gone until April at this point but Florida anglers will still have the opportunity to enjoy low humidity, blue bird skies and 70 degree air tempratures for quite some time.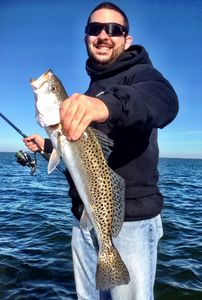 With the cooler weather comes a variety of changes here along the Nature Coast. Most anglers will soon find out that the late Spring patterns that we have enjoyed all the way into late December will soon give way to the rapidly changing situations of winter fishing. During periods of warmer weather those same old Spring patterns may once again hold great numbers of fish. Speckled Trout will be found along the Grass Flats, Redfish will be all over every island from Wacasassa Bay-Fish Creek in Homosassa, and Sheepshead will generally be around every structure of the Nature Coast. On the other hand there will be days of unfavorable weather that will once again push many of our local game fish into our 72 degree year round spring fed rivers. It will be in these rivers that most anglers will find large numbers of feeding fish including Mangrove Snapper, Redfish, Speckled Trout, Snook, Tarpon, and the occasional Bull Shark.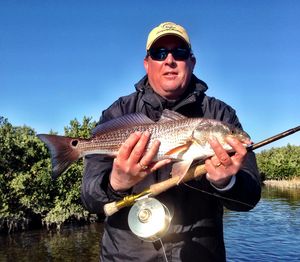 Like many local anglers I truly look forward to the opportunities and challenges that winter fishing brings to the Nature Coast. With the winter season ushering in lower than normal tides this is a great time of year to get out and enjoy some the best skinny water fishing action found in Florida. January is by far and away the best month of the year for anglers interested in target tailing Redfish and Sheepshead. The crystal clear shallow flats surrounding the Nature Coast are great foraging grounds for many hungry fish and no other 2 species take advantage of these flats like the Redfish and Sheepshead due. The best part of targeting both of these fish in skinny water is that they are both feeding on the same prey, that being small Shrimp. Artificial lures and flies that imitate Shrimp are sure bets, but throwing a free lined Live Shrimp on a #1 live bait hook will surely yield the best results.
Although skinny water fishing may not be for everyone there are still a number of great fishing opportunities that will be found in deeper boater friendly waters. Fishing for large Speckled Trout this time of year will surely be a high priority for a number of visiting anglers. On cooler days some of the more consistent Trout fishing will be found fishing the deeper drop offs and springs through out our river systems using Berkley Gulp! Shrimp. On the coldest of cold days anglers will want to try and fish as close to some of these springs as possible. When warmer water temperatures are present anglers will find most game fish will continue on with their normal daily feeding patterns across our local flats.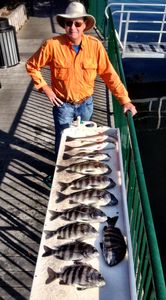 On days featuring our typical Florida warmer weather patterns savvy anglers will find that most game fish, Speckled Trout in particular will be hanging out at some of their familiar Spring and Fall feeding grounds. Large areas of grass flats, spoil islands, and many of the local rocky structures scattered throughout the Nature Coast will be great places to target Speckled Trout. When covering these areas this time of year it will pay to be ready for a variety of exotic species that you may come in contact with. Bluefish, Spanish Mackerel, Pompano and even Permit may all end up being unexpected guest during your days fishing this time of year. BE READY AS MOST OF THE BEST INDIVIDUAL CATCHES OF THE YEAR WILL OCCUR THIS MONTH!!
Enjoy your day, Enjoy your surroundings and most of all enjoy the Nature Coast!! It's a special place to be this time of year!!!