Thank you Hurricane Irma for sparing the Nature Coast of Florida!! Boy did we dodge a major bullet here in Crystal River. Last year some of you may have recalled we had a little category 1 hurricane named Hermine that came in on September 2nd and dumped heavy rains and flooded a majority of waterfront homes and businesses. I was personally affected when 28" of water decided to make its way into my house on that fateful day. To watch your life get turned upside down in a matter of minute's breaks your heart, so my deepest sympathies go out to all of those affected in the Keys, South Florida and the interior of the state. God Bless!!!!!!!!
_________________________________________________________________________________________________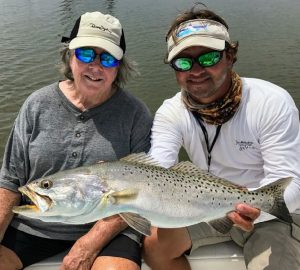 On a brighter note since Hurricane Irma has passed the Nature Coast fishing action has been extremely productive especially for those anglers looking for those elusive Florida Slams. Typically a slam consists of catching and releasing 3 different species of fish all with in the same day. On average most Nature Coast Anglers can expect to catch close to a dozen different species of fish so catching a slam can occur almost every day but September is one of those truly unique months in that it provides anglers with some the best chances to land some of the more reputable slams featured in Florida.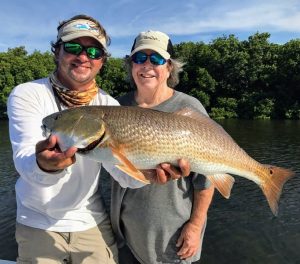 Historically a Nature Coast Slam consists of an angler landing a Redfish, Speckled Trout, and a Cobia all with in the same day. Now that Snook have become more prevalent most anglers have an opportunity to not only catch a West Coast slam (Redfish, Speckled Trout, and Snook) but a true Grand Slam as well (Redfish, Speckled Trout, Cobia, and Snook). Catching any of these four species of fish in one day makes for a great day but landing 3 or 4 of our top species is truly a special achievement.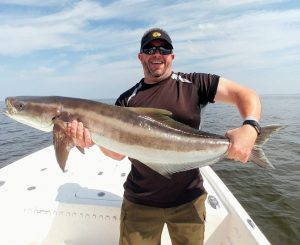 Over the last couple of weeks 2 of the biggest and best slams that my boats have ever seen where landed by lucky anglers Nancy Allen of Leesburg, FL and Shawn Friedbacher of Milwaukee, WI. Both of these anglers were obviously at the right place at the right time and this just goes to show you never know what's going to bite from cast to cast. Nancy Allen started off our trend of slams when she landed a nice 26" Redfish while fishing in the backcountry of Ozello and then followed that up with a 5lb Speckled Trout and 38" Snook on back to back casts all while fishing some of the many spoil islands we have scattered across our fishery. To say she was excited is an understatement!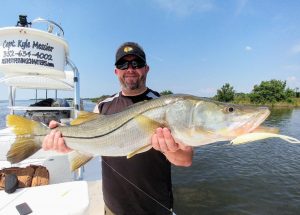 The slam of the year and probably one of the best Grand Slams I have ever been a part of in my 16 years of guiding is owned by Shawn Friedbacher. As we left the docks of the Best Western Resort on September 21st the first words out of Shawn's mouth were "I really have never been saltwater fishing before so what ever I catch will be a bonus!" In my experience it's those anglers that have low expectations that come out with some of the most banner days of fishing. Shawn and I started out jig fishing a rock jetty that is widely known for its abundance of multiple species. As luck would prevail both Shawn and I doubled up on a pair of over slot Redfish before Shawn landed a 16" Speckled Trout on the very next cast. As the heat of the day kicked in Shawn and I decided to run and gun some of the giant bait schools where Bonito had been crashing and pounding. Upon releasing 4 Bonito we noticed off in the distance something cruising on the surface next to a channel marker. As we swung in to casting range we noticed that this Cobia was a pig and was going to be a major challenge for our light tackle. One good cast with a large live shrimp was all it took to send Shawn's Penn Battle 2000 into overdrive. The fact that Shawn was able to pull that fish away from the marker was a challenge in its self. But after a 20minute tug-of-war on 15lb braid his 30lb Trophy was soon boatside. As if all of that excitement still wasn't enough we had to go into the backcountry one last time to try and score that elusive Snook we needed for the Grand Slam. 5 casts over the top of a mullet filled Oyster Bar was all it took for Shawn to land the final piece of his Grand Slam!!
Nancy Allen's Slam: 26" Redfish, 38" Snook, 27" Speckled Trout
Shawn Friedbacher Grand Slam: 30" Redfish, 16" Speckled Trout, 40" Cobia, 37" Snook
FOR THOSE OF YOU INTERESTED IN REGISTERING FOR A SLAM PLEASE CHECKOUT THIS PAGE FROM THE FWC WEBSITE:
http://catchafloridamemory.com/programs/saltwater-grand-slams/