Florida fishing friends the time has finally arrived when we all can walk out of our homes and feel that slight hint of fall weather against our cheeks. To most Floridians the beginning of fall is like stepping on a small Lego in the middle of the night that you never saw coming. After months of sweating in humid 80°-90° weather, that initial unknown step outside wearing nothing more than a short sleeve shirt, Salt Life board shorts and flip flops only to find out that the taste of fall has been waiting on your door step to smack you right in the face is enough to take your breathe away and send you running back inside hoping to God that you can remember where you stashed that sweatshirt you were last wearing back in March.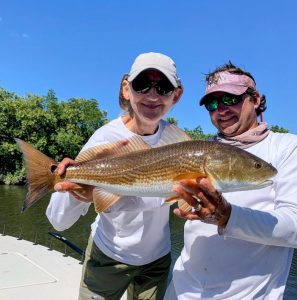 Now, in my case I know exactly where my sweatshirt is at all times. It's rolled up and stored right next to my rain jacket collection and two pairs of pants that only see action a few months out of the year (#FloridaLife). But going forward it appears that long sleeves and pant legs will become the norm now that all signs of fall are here. To Florida anglers the signs of fall are obvious. White Pelicans flying overhead are usually the first indicator followed by extreme lower tides and water temperatures. Here along the Nature Coast shallow water anglers covet the extreme lower tides as this indicates the beginning of our season for targeting tailing Black Drum and Red Drum (Redfish).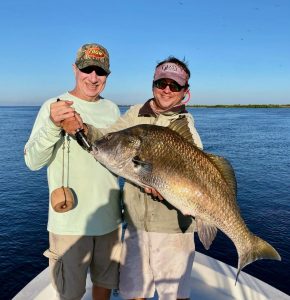 Extreme negative tides are usually easy to predict, as they're associated with the Full or New moons every month. During these tides, water levels can recede on certain flats to the point where they're rendered high and dry and completely exposed. Such tidal situations are ideal for targeting both Black Drum and Redfish, as they tend to feed heavily while there is water in anticipation of having to take up refuge in deeper water areas such as potholes or channel edges when the tide drops out. Both of these species will gorge themselves up until the water levels are basically ankle deep often exposing their tails in the process. There is nothing more exciting than poling down a pristine shallow water flat and witnessing the sight of a beautiful bronze tail flapping about on the surface as a hefty Redfish tries to dig out a crab from the mud.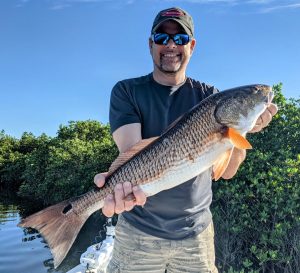 Targeting tailing fish in extreme shallow water requires a stealthy approach which is where a technical poling skiff really helps to tip the odds in the favor of the angler. Light lines and accurate casts add to the challenge level but when targeting tailing fish anglers need to remember that they are targeting actively feeding fish. Just get the fly, shrimp, or lure in front of them without spooking them and it's off to the races watching the line peel of the reel. FISH ON!!!!!
NEARSHORE REPORT
When water levels drop to the point where both flats boats and bay boats are rendered useless there are still great options just offshore that many anglers are taking advantage of as we speak. How does casting plugs for Gag Grouper sound on light tackle?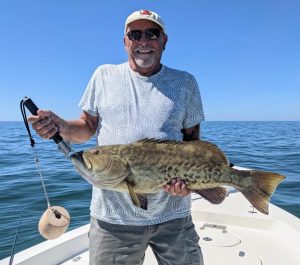 The Nature Coast of Florida is home to thousands of rocks, wrecks, reefs, and ledges that Gag Grouper of all sizes love. Trolling and Casting lipped diving lures such as Rapala's and Yo-Zuri's was refined and perfected off our coast during the 90's and to this day it's still one of the most prominent Gag Grouper fisheries in Florida. Grouper's ranging between 6-10lbs are common and it's not unheard of to do battle with larger Grouper in the 18-25lb range on a regular basis when water temperatures drop and most fish move inshore.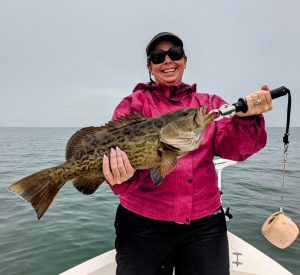 For those looking to do battle with one of Florida's most sought after species now maybe the time to hit the water and give it a shot.
Capt. Kyle Messier
(352) 634-4002
WWW.CRYSTALRIVER-FLYFISHING.COM