Well ladies and gentlemen the time has finally arrived for one of the most exciting bites the Nature Coast of Florida host's year after year. With the rapid cooling of temperatures both on land and on the water, many large pods of bait fish are departing our local flats and beginning their long and treacherous migrations offshore. Laying in wait just offshore for these migrations are some of the largest and fastest inshore game fish found anywhere in Florida.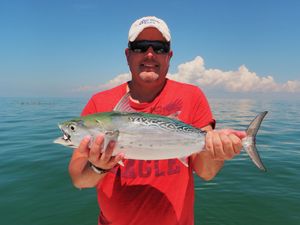 The onslaught first begins with Pelicans, Turns and Gulls pounding the surface to pluck any unsuspecting threadfin herring, glass minnow, ballyhoo, or scaled sardines off the surface. Once the maylay begins on the surface it's only a matter of time before the speedy Bonita, Jacks, Mackerel, Bluefish, Cobia, and even Sharks get in on the action. Lately it has not been uncommon to have 3 or 4 of my anglers cast into these schools of feeding fish and all come back with a different species. As you can imagine this makes for quiet an exciting trip and did I forget to mention that these schools of fish will at times stretch to over 5 acres wide. If you did the math on 10ft of water x 5 acres of fish this = a whole lot of fish!!!!
To make matters worse for these migrating bait fish, normal bottom dwellers like the Grouper, Snappers, and Flounder also want to get in on some of this action. It's not uncommon to have a whole school of fish surround the boat, so instead of making long casts, I have my clients opt towards vertical jigging. Vertical jigging has worked really well for landing fish in these feeding frenzies mainly because most baitfish attempt to take up refuge underneath my skiff. As a matter of fact the largest Flounder that has ever been landed on what of my charters came while working this very same technique. Congratulations to Mike Cox for landing this beautiful doormat of a Flounder during a recent Red Hot Fishing Charter.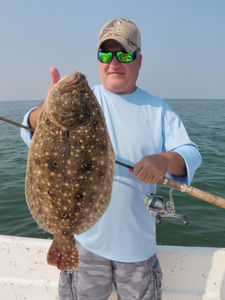 So with the first week of fall under our belts all signs are pointing towards a phenomenal October and November. With masses of feeding fish hitting home on our nearshore waters and Redfish and Speckled Trout loading up on our flats and backcountry bays, now is the time to hit the Nature Coast for what could be one of the final pushes of Awesome fishing the Nature Coast will see in 2011.