"I ALWAYS TELL MY CLIENTS THAT FLOOD TIDES CAN EITHER BE A GIFT FROM GOD OR A CURSE BESTOWED UPON US BY MOTHER NATURE."
Targeting tailing redfish on flood tides, from Homosassa all the way north to Yankeetown is one of the most unique fishing opportunities for anglers found anywhere in Florida. Something about seeing a tail slowly cutting through the top of the water column, surrounded by short spartina grass, on a flat that is only covered by water a few times a month is simply special. Watching these fish casually tail their way through the flat, digging their noses in the mud looking for a shrimp or fiddler crab is almost as entertaining as watching them eat after a perfectly placed cast.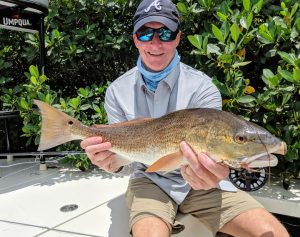 So what is a Flood Tide? A flood tide is a larger than normal tide that pushes water onto spartina grass flats and floods mangroves, allowing redfish to feast on the thousands of crabs that live there. In Florida our flood tides typically occur around the months of September and October and during these tidal phases our average tide rises from 2-3 ft to 3.8-5ft depending on the direction of the wind. On average the Nature Coast will see around 10-15 of these tides per year and for those anglers that try to home in on these particular tidal phases a tide chart is the best resource for trying to nail down these flood tides.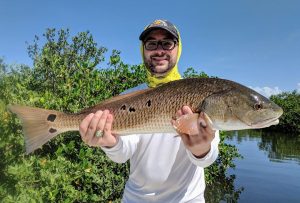 So what is so special about fishing a Flood Tide? The beauty of fishing for flood tide Redfish is that it gives anglers the opportunity to target fish in areas where they normally can't be targeted. Most of the time these Redfish get so caught up on foraging that they often let their guard down making these fish easier to target. When fishing flood tides anglers usually want to start around 2 hours before high tide, so they can be in a prime location as the fish start to move onto the flat with the incoming tide. Usually the best action is going to be around the last hour of incoming and the first hour of outgoing, depending on the height of the tide for that day. Flood tide Redfish are actively feeding while on these flats, so after about 2 hours you start to see fewer tails because, as you can imagine, most of the fish are full after gorging on the buffet of crabs. This is, however, not always the case, especially during late summer when fish seem to feed nonstop through the tide.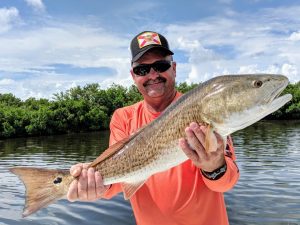 As most flood tide anglers will tell you "keeping your eyes open for tails or surface commotion" is just as important as a good cast. Also realizing that not every fish on the flat will be a Redfish is equally important. Sheepshead, Black Drum, Snapper, and even Snook are also common on these flats but the one thing that all of these fish have in common is that they're all on this flat to feed.
So if flood tide fishing sounds like a your next fishing adventure feel free to give the guides of Florida Fishing Adventures a call today.